« Fresh off his SUPER HUGE CUTS, Speaker Boehner unveils "Boehnerman"
|
Main
|
Top Headline Comments 4-13-11 »
April 12, 2011
Overnight Open Thread - Boringest Night Version
Some pretty good advice on how to be artist or just a creative and productive person in general. I wish someone had shown me this when I was still in college high school - it could've reduced my angst and self-loathing by at least 17%.
2. Don't wait until you know who you are to start making things.

There was a video going around the internet last year of Rainn Wilson, the guy who plays Dwight on The Office. He was talking about creative block, and he said this thing that drove me nuts, because I feel like it's a license for so many people to put off making things: "If you don't know who you are or what you're about or what you believe in it's really pretty impossible to be creative."

If I waited to know "who I was" or "what I was about" before I started "being creative", well, I'd still be sitting around trying to figure myself out instead of making things. In my experience, it's in the act of making things that we figure out who we are.
As Flaubert said, "Be regular and orderly in your life, so that you may be violent and original in your work."

I'm a boring guy with a 9-5 job who lives in a quiet neighborhood with his wife and his dog.

That whole romantic image of the bohemian artist doing drugs and running around and sleeping with everyone is played out. It's for the superhuman and the people who want to die young.

The thing is: art takes a lot of energy to make. You don't have that energy if you waste it on other stuff.
So if you're in need of some inspiration, read the whole thing. Then get out there and start creating.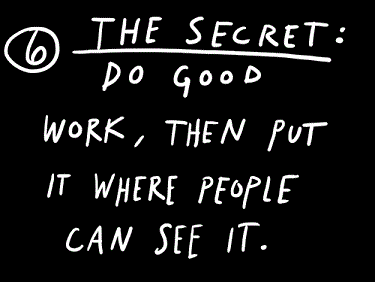 San Francisco To Require ID Scans, Photos of Anyone Going to Bars, Clubs, Other Venues
But toking up and shitting in the street are still allowed. Thank God at least one city in AmeriKKKa still hasn't knuckled under to the new police state.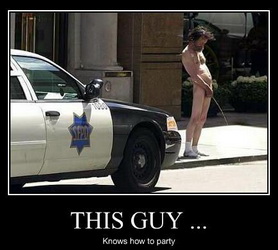 Female Egyptian Lawyer: Israeli Women Should be Sexually Harassed
By Palestinian men as a form of resistance. And if that harassment should happen to turn into rape-rape, well that's just a little justice since the Israelis have been 'raping' Palestinian lands. Note that Nagla Al-Imam is an educated woman and influential lawyer in Egypt. So when liberals wonder why conservatives aren't too enthusiastic about a populist revolution in Egypt, well Nagla is Exhibit A.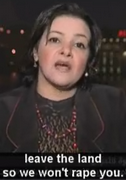 Worst Sports Column Ever: Beaten Giants Fan Deserved His Coma
For having the temerity to wear a Giants jersey at Dodger stadium:

Maybe someone can ask Stow, if he ever comes out of his coma, why he thought it was a good idea to wear Giants' gear to a Dodgers' home opener when there was a history of out-of-control drunkenness and arrests at that event going back several years…
...
Obviously, not every fan who wears his team's jersey to a game is looking for someone from "the enemy" to beat up. But maybe somebody should do a psychological study to find out if all those game jerseys have contributed to the new mob mentality that seems to exist in the stands these days.
As LA talk radio hosts John and Ken have made clear the violence and general thuggishness at the stadium have been building for several years now as gangbanger types have migrated over from Raider Nation to become Dodger fans. Meanwhile the owners seem to have cut back on security to save money, letting the thugs take over entire sections of the stands. But Stow who was from out of town probably knew none of this - I sure didn't until hearing about it on the radio. Who would ever imagine that baseball games would become modern day Thunderdomes?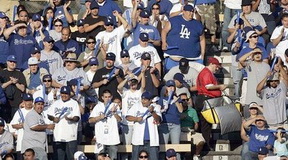 So Why is the AK-47 So Popular?
Of all the existing firearms in the world at least 20% of them are some variant of the Kalshnikov. So why has it become so popular around the world? Well it's very robust, easy to maintain, and accurate enough at short ranges to get the job done. But the main reason they're so popular and cheap is that the Soviet Union for decades handed them out like candy to any third-world country and po-dunk group that seemed even mildly hostile to Western interests.

Huge production numbers coupled with a long service life have littered the globe with AKs. Killicoat's paper cites another big reason for the AK-47's global status: the Soviet government may have been stingy with its own people, but it was awfully generous when it came to giving away or selling Kalashnikovs to regimes and rebel groups it supported.

And if you enjoy seeing AK-47s in the wild, well Condé Nast Traveler magazine says that Libya is one of the
"15 Best Places to See Right Now"
.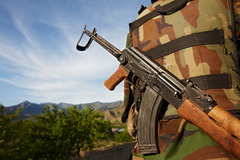 What People Ate in the 1700s
Well judging from pub menus it was probably less varied but fresher and tastier than today's grub.

Turner uses pike, fried in a little butter, and adds it to Verral's soup mixture with parsley root, celery and other vegetables: tangy but meaty and delicious. Interestingly, Turner sees this dish as a precursor to fish pie; a hearty, one-pot meal.
The Must-Play Video Games of the Year
If the year is 1982. What's amazing about these nearly 30-year-old(!) games is how good the graphics look given the technology and how playable and fun they still seem. But of course today the penalty for failure is still 'video death'. And mockery.


Little Girl Channels Her Inner Rum
Apparently Disneyland's Jedi Academy has a stage show where they choose a kid out of the audience and give them the opportunity to reject Vader and battle him on stage. But when Sarah Gallejo was chosen, she went off-script - and accepted Vader's offer of joining the dark side. Turning off her saber and kneeling was a particularly nice touch. The Sith welcome their newest member.

Think You're a Fan of Ken? No, you're just an amateur.
(thanks to Heather Radish)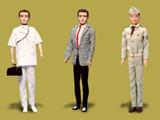 The Yahoo AoSHQ group. You know the way.
Tonight's post brought to you by Edmund Ruffin: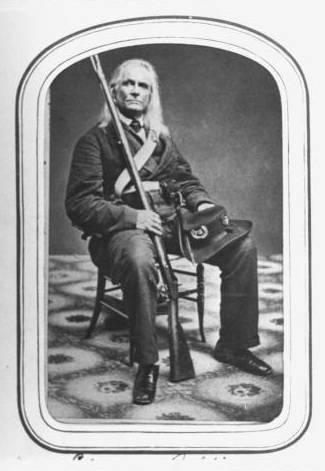 On
this day in 1861
he fired the first shot of the Civil War.
Notice: Posted by permission of AceCorp LLC. Please e-mail overnight open thread tips to maetenloch at gmail. Otherwise send tips to Ace.

posted by Maetenloch at
09:24 PM
|
Access Comments