« Obama To Retroactively Make the Case For War He Already Committed the Public to at 7:30 Eastern
|
Main
|
Top Headline Comments 3-29-11 »
March 28, 2011
Overnight Open Thread
Via Derbyshire comes this chart of Dictator longevity. In so far as Obama actually has an Obama Doctrine it seems to boil down to stabbing in the back friendly dictators, sucking up to unfriendly ones, and bombing the ones that France tells us to.
So as long as Kim il Jong stays on Sarkozy's good side, he's got no worries.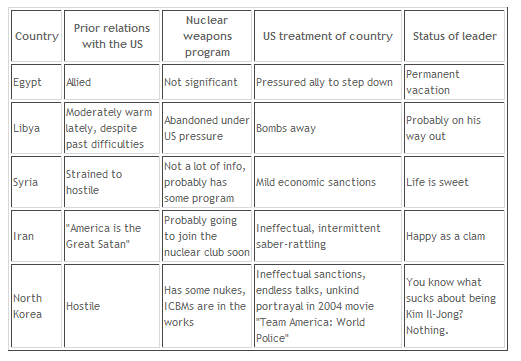 How A 20 Year-old Kid and a Masseuse Defrauded the Pentagon Out of $300 Million
Apparently I'm neither evil nor genius enough to come up with scam like this:

From 2005 to 2008, AEY Inc. held over 29 task orders with the Army to provide "non-standard ammunition" from Soviet bloc countries to the Afghan army. Those orders represented $300 million for the fledgling company.

Only there was a little problem with the supply chain. To maximize profits, AEY illegally procured bullets from China and cheap rounds from Albania, telling the Army that the 7.62 mm bullets were really from Hungary. Often, those rounds arrived in rotting cardboard boxes and performed so poorly they had to be destroyed. "Too much of it is junk," an Afghan lieutenant colonel told the New York Times.

And that led to further discoveries. AEY was run by a 22-year old, Efraim Diveroli, who had a charge sheet filled with bro-related infractions. (Battery in a domestic incident; possession of a fake ID.) The company's listed vice president, David Packouz, was a 25-year old masseur. And AEY was even on the State Department's Arms Trafficking Watchlist.
Their punishment: They're not allowed to bid on federal contracts for a few years.
Jonathon Last: The NYT Finds Its Inner Theocon
The governor of IL has signed a bill eliminating the death penalty:

To mark the event, the New York Times ran this lovely story about how Gov. Pat Quinn wrestled with the decision to sign the bill. They note with reverence how, at the final hour, he consulted the Bible and then, ultimately, rested his decision on the rock of argument built by Cardinal Joseph Bernardin. The Times finds this theological influence on the public square to be quite wonderful. And it is!

You can only imagine, of course, the treatment they'd give to the story if all the particulars were identical except that the bill outlawed abortion.
Clearly no one has informed Andrew Sullivan about this since the Sully Freak-Out Advisory is currently only at 10: "Filled With Heart-Ache at Such Gobsmacking Vileness".
Some Commercials From 1981
Sadly entire tracts of your brain are used to remember this stuff.

The Oreo Stuffed Chocolate Chip Cookie Recipe
Here it is:

Oreo Stuffed Chocolate Chip Cookies
Makes 24 gigantic cookies
Prep: 25 minutes
Cook: 13 minutes

Ingredients
• 1 cup (2 sticks) softened butter
• 3/4 cup packed light brown sugar
• 1 cup granulated sugar
• 2 large eggs
• 1 tablespoon vanilla extract
• 3 1/2 cups flour
• 1 teaspoon salt
• 1 teaspoon baking soda
• 2 cups semi-sweet chocolate chips
• 1 package Double Stuff Oreo cookies

Directions
Preheat oven to 350 degrees.
In a large bowl, cream butter, brown sugar, and granulated sugar together with a mixer until well combined. Beat in eggs and vanilla.
In medium bowl mix the flour, salt, and baking soda. Slowly add to wet ingredients along with chocolate chips until just combined.
With a cookie scoop, form balls with the dough.
Place one ball on top of an Oreo cookie, and another ball on the bottom. Seal edges together by pressing and cupping in hand until Oreo cookie is fully enclosed with dough.
Place onto parchment or silpat lined baking sheets and bake cookies for approximately 13 minutes or until golden brown. Let cool for 5 minutes before transferring to cooling rack.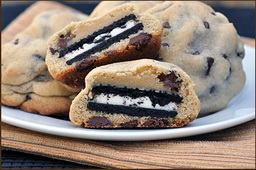 Women Start Feeling Old At 29
When their looks begin to fade:

'Magazines are all about youth and are filled with young, attractive women. Women then start to perceive themselves as old when they no longer feel like this, when they don't feel trendy or fashionable.
But guys don't feel it until 58 and/or when their junk starts becoming unreliable:
For men it was far more simple – two-thirds said they felt past it only when they could no longer perform in the bedroom. And 22 per cent admitted it was when they thought music had become too loud in bars.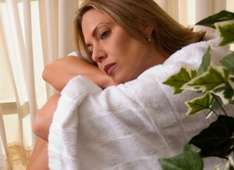 A Green Machine for Adults
Back in the 70s the Green Machine was a Big Wheels for older kids. And now there's one for grown-ups:

"We had a Green Machine lying around the shop and we figured it would be a cool idea," said Parker Brothers' Jeff Halverson, who did 50 mph on this beast. "It rides crazy and is fast as hell. If it wasn't for the rear tires we could have had it DOT approved."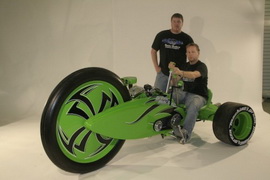 Man Arrested for Stealing Bag of Dildos From His Boss
Mitchell Tice was arrested for breaking into his boss' storage locker and stealing two laptops, a wig, and a bag full of dildos. He kept the sex toys under his bed which is how the police later identified him as the criminal. Okay without looking - name the state this happened in.


The Yahoo AoSHQ group. Bla bla bla. And don't forget about the Job Bank.
Tonight's post brought to you by the Sugar Information Council: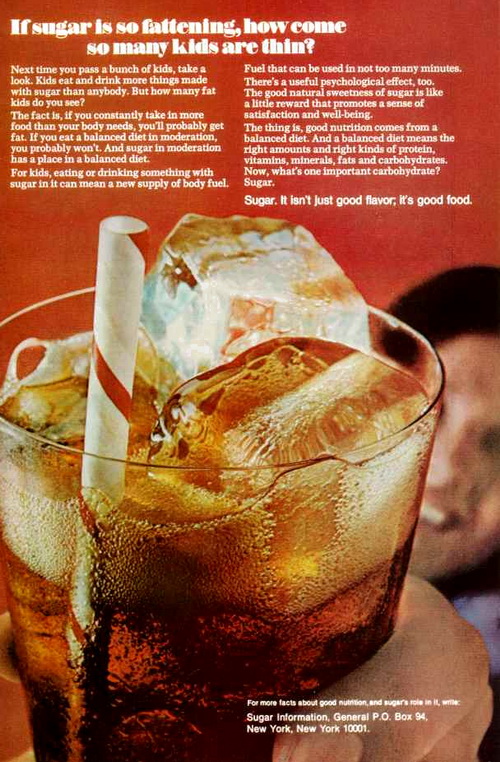 Notice: Posted by permission of AceCorp LLC. Please e-mail overnight open thread tips to maetenloch at gmail. Otherwise send tips to Ace.

posted by Maetenloch at
09:54 PM
|
Access Comments