« Oh Dear Sweet Lord All Mighty: Obama Realized Tuesday That Sanctions Weren't Working
|
Main
|
Overnight Open Thread »
March 18, 2011
Obama: You Know What We Can Never Stop Being Grateful For? That We Have A President Named Barack Obama.
I admit, sometimes I fail to count Obama among my blessings. I am grateful to him for reminding me.
At a fundraiser:
"The first time around it's like lightning in a bottle. There's something special about it, because you're defying the odds. And as time passes, you start taking it for granted that a guy named Barack Hussein Obama is president of the United States," Obama said. "But we should never take it for granted."
We should never take me for granted.
"I hope that all of you still feel that sense of excitement and that sense of possibility, because we still have so much more to do."
Gee, I remember when a certain charismatic charlatan revved up crowds by promising we are the change we've been waiting for.
Turns out, not so much; it was in fact Obama all long.
...

"I know that sometimes people may get frustrated and think, you know what, Obama is being too nice and we need to get in there and take it to them. And there will be times where that's important," the president said...
That's what I'm always telling you guys -- Obama is too nice.
This is like the bullshit part of a job interview. My flaws...? Ah yes, my flaws. Sometimes I'm too detail-oriented and can't detach from work.
... "As important as our political labels are — Democrat and Republican — as many tough fights as we're going to have, part of what made 2008 special is we brought the country together."
Oh, Bubby, you united 53% of the country last time. I have great hopes this time you'll unite 54-55%.
Thanks to momma and TheQuietMan.
Update [Slublog] - This story reminds me of something I created a while back.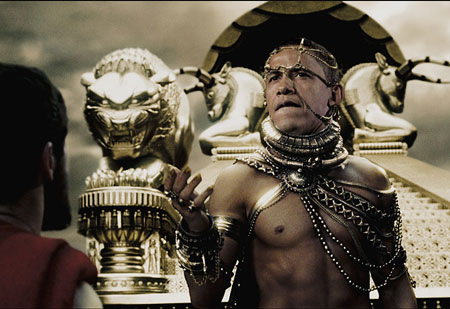 He requires only that you kneel.

posted by Ace at
08:08 PM
|
Access Comments