« High School Basketball Player Sinks Game-Winning Shot, Cappping Team's Perfect Season, And Then Dies On The Court Due To Heart Attack
|
Main
|
Some Dirt on Christie: Previous Political Experience Marred By Cockiness, Dishonest Attacks on Opponents That Led To Defamation Suits »
March 04, 2011
February Unemployment Barely Changes, but Some of the Numbers Look a Tad Better
Sorry for the late posting, but real life demands kept me away from the Internet until just now. Anyway, the BLS released the unemployment rate for February this morning, announcing a rate of 8.9% (essentially the same as last month's 9.0%). While most of the indicators remained the same, there were a few bright spots:

the number of unemployed decreased by 190K (without decreasing the size of the labor force this time!),


the number of reluctant part-timers fell by 236K,


private sector employment actually rose by 222K,


state and local governments shed 30,000 jobs. (It seems they're getting the message that the federal government cannot seem to hear.).
Here's The Chart, updated with the latest. Note how the rise and fall of the data follows the arc of the "No Stimulus" curve, almost as if the economy is recovering on its own schedule without regard for federal intervention. That's a real puzzler, yessirree.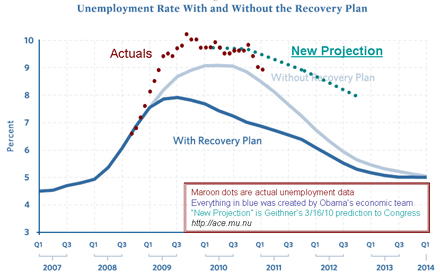 posted by Geoff at
05:06 PM
|
Access Comments