« Shooting At Frankfurt Airport Leaves Two US Soldiers Airmen Dead
|
Main
|
Two More Take-Aways From The Snyder Case »
March 02, 2011
Marine Lance Cpl. Matthew A. Snyder
We often get caught up in the heated political battles over people like Fred Phelps or Cindy Sheehan. It can be easy to forget that behind those well known names and heated debates are heroes like Casey Sheehan and Matthew Snyder.
So instead of writing any more about the Phelps family freak show, I think it would be better to take a moment and remember Lance Corporal Snyder.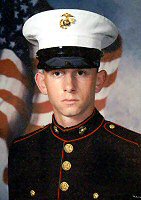 Lance Cpl. Matthew A. Snyder, of Westminster, died March 3 after an accident in the Anbar province of Iraq. The accident did not involve combat, the Defense Department said.

Snyder, 20, was assigned to Combat Service Support Group-1, 1st Marine Logistics Group, I Marine Expeditionary Force, in Twentynine Palms, Calif.

Family members are still reeling from the news of his death.

Julie Snyder, Matthew's mother, was too saddened to talk, but she allowed her sister, Cathy Menefee, to speak for the family. She told The (Baltimore) Sun of his keen sense of humor and an unwavering sense of responsibility, which culminated in his decision to join the military.

"It's sounds so cliche, but he died doing what he wanted to do," Menefee said. "He always wanted to be a Marine."

Snyder enlisted on Oct. 14, 2003. He had been based at Camp Lejeune, N.C., before being assigned to Twentynine Palms in August 2004 as a generator mechanic.

He was the middle of three children, with sisters Sarah Snyder, 22, of Hanover, Pa., and Tracie Snyder, 18, who lives with their father in York, Pa.
From his obituary.
LANCE CORPORAL MATTHEW A. SNYDER USMC, 20, of Westminster, was killed instantly March 3, 2006 while on assignment in Al Qaim, Iraq. Stationed out of Twenty Nine Palms, CA, Matt was on a convoy mission for which he volunteered when the Humvee he was traveling in overturned. LCPL Snyder was born July 18, 1985 and lived in Carroll County until he followed his heart and chose to enlist in the USMC upon graduating in 2003 from Westminster High School. After completing training at Parris Island and Camp LeJeune, he was stationed at Twenty-Nine Palms in CA until his deployment to Iraq in February of 2006. Matt was a young man who truly loved and embraced life and he lived his twenty years to the fullest. He attended Sandymount Elementary School and loved sports. He played soccer and baseball for many years through various recreational programs. He also loved everything outdoors, including fishing and being at the beach. He loved hiking and spent many days growing up at Cascade Lake at the Skate Park. Matt was a devoted brother and cousin, who enjoyed family parties, playing football games and swimming in the pool. He was a wonderful role model to his younger cousins. Matt was proud to be a Marine and filled the position with dignity. Just before his deployment, Matt said he volunteered for convoy escort security because in his words, "there was a position that needs to be filled and I'm a Marine".
Snyder's family maintains a website here.

posted by DrewM. at
12:51 PM
|
Access Comments