« Overnight Open Thread
|
Main
|
Top Headline Comments 2-25-11 »
February 25, 2011
The KP hits the fan [Fritzworth]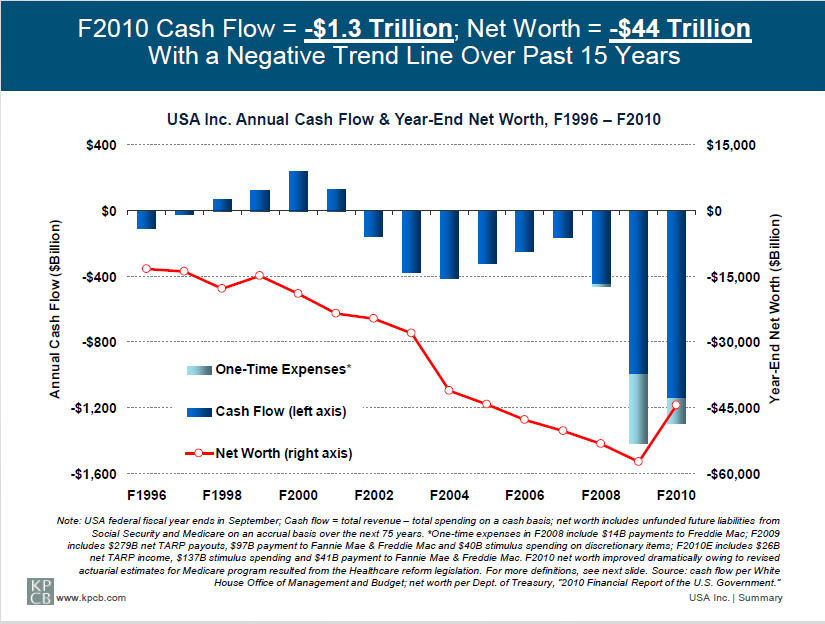 Sorry to step on the overnight threads, but I suspect you'll be seeing lots of slides and quotes from this document in the days to come. Kleiner Perkins Caulfield & Byers -- one the best known and most successful venture capital firms in the country -- has issued a report, "USA, Inc.", that analyzes the US Federal Government as if it were a business.
The results are not pretty, as the diagram above shows. And the report goes on like this for 266 pages (most of which are PPT slides with either charts, tables, or bullet-point summaries).
Now, to the extent that the Kleiner Perkins partners have political leanings, they are decidedly moderate to liberal; Al Gore is one of the partners there, and John Doerr, the best-known partner at KPCB, was in the group that met with President Obama last week. Which is what makes this documents so fascinating, since it makes it very clear that the US cannot sustain its current economic path, particularly with regards to entitlements: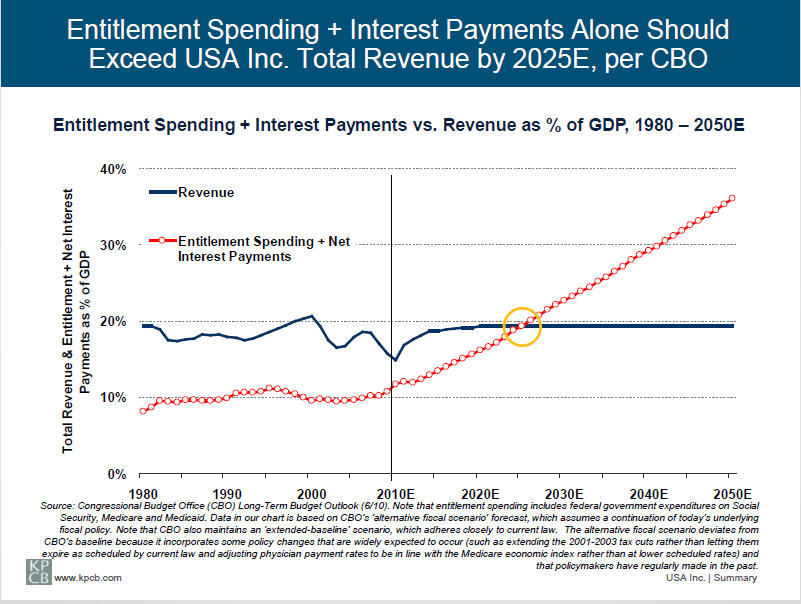 You can download the PDF version of the report or read it online at the link given earlier. You'll find lots of fodder to whack your Keynesian friends over the head with. ..fritz..
P.S. I have to wonder if Doerr gave a copy to Obama at that meeting -- and, if so, whether Obama ever bothered to look at it.
P.P.S. Hat tip to Jordan Dea-Mattson, a friend who posted the link over on FB, which is where I first saw it.


posted by Open Blogger at
01:28 AM
|
Access Comments