« Observations from Wisconsin, Donna V.
|
Main
|
Overnight Open Thread »
February 19, 2011
Intrepid Moronette Reportage
Heather Radish is on the ground, doing the job most Americans won't do.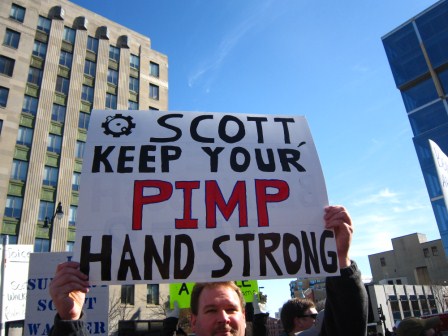 Pics here at her linky.
She writes:
My seatmate on the Americans for Prosperity bus was a burly Teamster
named Bob, so I got in and out of the Capitol grounds quite safely :)
The people on my bus ranged in age from jr high to retired, with a
range of occupations including a private school teacher (who went to
work all week), a union carpenter, truck drivers, sales people, and
funemployed. Several first-timers and several veterans of local Tea
Parties. All well-informed about the actual provisions of the bill.
The last straw for most of us was the Fleebaggers (WI Senate Dems)
taking off on Thursday to avoid voting on the budget bill (people from
my bus with missing Dem sign:
http://www.flickr.com/photos/10297889@N08/5459426343/). Everyone had
a great time, and my new friend Bob said this was probably the best
tea party he'd been to, because it really feels like our right to have
fair, meaningful elections is at risk.
Rally-goers: Calm, polite, friendly, much laughter. Lots of veterans.
Conservatives look sheepish when they chant. Lots of people who pay
more than 12% of their health insurance premiums. Surprising number of
young people who were with us.
Signs:
A very Moron Sign: http://www.flickr.com/photos/10297889@N08/5459431251
My favorite: http://www.flickr.com/photos/10297889@N08/5460105290/
Best use of Obama: http://www.flickr.com/photos/10297889@N08/5460040868
Best use of Zeros: http://www.flickr.com/photos/10297889@N08/5460106726
Cute Chick for Ace: http://www.flickr.com/photos/10297889@N08/5460048132

Speakers: If you watched the livestream of the speakers, you had a
better view than I did, they were blocked by cameras. Herman Cain was
first because he was also speaking in TX today, and very very good:
http://www.youtube.com/watch?v=SVo7495RKW4 Author Brad Thor was an
excellent surprise speaker--he had the Quote of the Day, referring to
Obama's "assault on the unions" comment: "When you're being mugged and
you kick them in the pills, you're not committing assault." There was
a mother whose name I cannot recall who called out the left for the
Hitler signs. Another speaker was cut off briefly when some goons
broke through the perimeter and unplugged the sound system (so much
for their newfound fetish for free speech). I love Breitbart, but I
thought he strayed a little bit from the core message. Dave Westlake
(lost in primary to Ron Johnson) read Sarah Palin's Facebook letter to
union members...my attention wandered, because I'd read it already.
Hippies and professional protesters: Not impressed with the SEIU
enforcer http://www.flickr.com/photos/10297889@N08/5460034476/, but I
suppose the rest don't roll out of bed that early. After the rally,
there were more goons with lame and vulgar signs screaming tired crap
about The Rich, and the obligatory Hitler references.
One professional preprinted sign everywhere was "stop the attack on
working families"--like only public union employees have families or
something. There was also a plane with a banner about working
families--I don't know who's responsible for those signs, they weren't
labeled, but "Working Families" is ACORN's political party in NY...
There were also a few standing quietly holding cut flowers. At least
they were quiet.
And a woman on stilts, dressed as the Statue of Liberty. Sadly, didn't
get a pic.
Personal note: The guy who gave me the Radish nickname years ago when
we were working at his dad's restaurant lives in WI now send me a
message of encouragement last night; he supports Walker but was too
busy working to support his adorable family to make it over to
Madison. So the attendance was estimated at 10k, but if each of us
represented five or six people with real obligations that prevent them
from street demonstrations, that's pretty big.
Had a great time; was only disappointed it was over early. I'll go
again if necessary.
(This is why I stopped blogging, I go on forever :)
Thanks!
Heather

posted by Dave In Texas at
09:04 PM
|
Access Comments