« Civility: Lawmakers in Wisconsin Now Being Threatened By Left-Aligned Thugs
|
Main
|
Top Headline Comments 2-18-11 »
February 17, 2011
Overnight Open Thread
Where We're Going; Where We Come From
From John Derbyshire at The Corner comes this link to a Forbes interactive map showing where people are coming from and going to at a county-by-county level.

It shows how Americans move from county to county. It shows direction (are they going or coming), location (where do they go or come from), and relative net volume of those moving (dark black = heavy inflow; dark red = heavy outflow). This probably shows where the jobs are.

I noticed that people in metro areas come and go from far away, but people in smaller towns don't move very much or very far from or into a town. Compare Louisville, KY (Shelby Co.) vs. New Albany, IN (Floyd Co.) across the river. Compare Boise Co. ID vs. Salt Lake Co. UT. And by the way, people are leaving California in droves.
Just take a look at the movement chart for Los Angeles. Holy crap - it's like a red explosion of people fleeing. And just wait until things start to get
really
bad in California.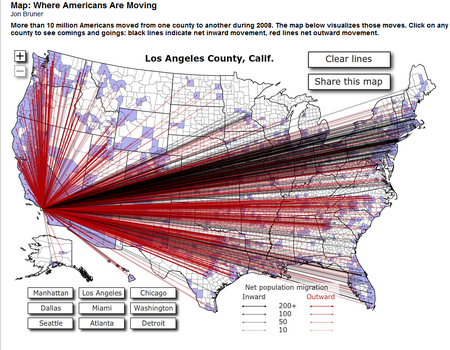 What Ever Happened to Lounge Acts?

Once upon a time, there were droves of performers who traveled the Ramada circuit, the Holiday Inn circuit, the Howard Johnson circuit, etc. Part of the hotel experience was the lounge act; sure they were cheesy, but a perfect backdrop to a glass of brandy and a cigarette.

Somewhere along the way, these entertainers became un-hip and the brunt of jokes. The lounges were converted to conference rooms and hotels suddenly got a whole lot blander.
I like the description of the guy in this group as going for the 'Frankenstein-Amish-Beatle' look.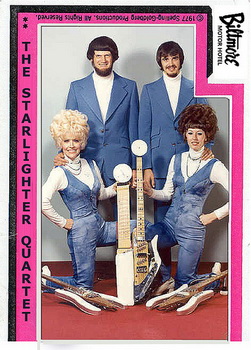 Do We Really Need Black History Month?
Well an entire month does seem pretty long and John McWhorter argues that Black history has already been so incorporated into the history curriculum that a month dedicated to it is superfluous:

And we also live in an era when history textbooks are dedicated to chronicling slavery to such an extent that critics decry the decrease in space devoted to other aspects of history, and when university leaders consider it more important that an undergraduate know what institutional racism is than what the Munich Agreement was.

All of this is why a month dedicated to black history now feels like a month dedicated to seat belts. Both are now part of the fabric of American life, with black history almost as insistent on any wakeful person's attention as the pinging sound in a car when you don't buckle up.
And then you have
this
: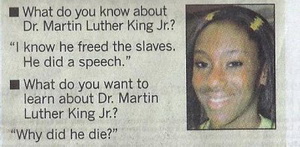 Proof that black students are now just as ignorant and clueless as white students. Equality at last.
Insurgents Meet Mr. Apache
And then meet their maker. Yes, lots of jihadis were injured during the filming of this video.

How Bad Off Is Detroit?
So bad that the city will literally pay you to live there:

Mayor Dave Bing is trying to save Detroit by offering incentives to lure residents back to abandoned neighborhoods. One program offers $150,000 in housing renovation money and requiring only $1,000 down to police officers who are willing to relocate to the city. Another offers college graduates $2,500 to rent and $20,000 forgivable loan to buy properties. Potential home buyers can choose from plenty of cheap or free homes, especially in the blighted neighborhoods of Woodward Ave. and Brush Park.

And the
Robocop statue
is hoped to be a major attraction.
Is Facebook Killing off Church?
So how come Gen Xers didn't leave the church while Millennials are? Well Richard Beck says the difference is social media:

So why has mobile social computing affected church attendance? Well, if church has always been kind of lame and irritating why did people go in the first place? Easy, social relationships. Church has always been about social affiliation. You met your friends, discussed your week, talked football, shared information about good schools, talked local politics, got the scoop, and made social plans ("Let's get together for dinner this week!"). Even if you hated church you could feel lonely without it. Particularly with the loss of "third places" in America.

But Millennials are in a different social situation. They don't need physical locations for social affiliation. They can make dinner plans via text, cell phone call or Facebook. In short, the thing that kept young people going to church, despite their irritations, has been effectively replaced. You don't need to go to church to stay connected or in touch.
How To Talk To Your Kids About Star Wars
There comes a time when every parent has to have _the talk_ with their kids and explain Star Wars. Otherwise they'll just learn about it on the streets. And down that path lies Jar Jar Binks toys.

"There's a few very important things that I think [my child] needs to realize, growing up. One: Han Solo shot first. I don't really want my son growing up in a world where we believe Greedo shot first."
Six Weird Sports You Might Not Know Exist
Some of these like chess-boxing seem like gimmicks but this fistball thing looks like it might be interesting at least based on the picture.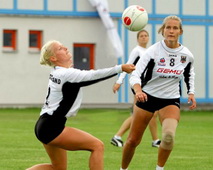 Liam Neeson On His Wife's Death

"That's the weird thing about grief. You can't prepare for it. You think you're gonna cry and get it over with. You make those plans, but they never work. It hits you in the middle of the night -- well, it hits me in the middle of the night. I'm out walking. I'm feeling quite content. And it's like suddenly, boom. It's like you've just done that [wrings hands in opposite directions] in your chest."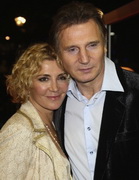 Inmate Hid Over 30 Items in his Rectum
It was regular rectal knapsack:

Sheriff's officials say the homeless man, Neil Lansing, was sentenced by the judge and sent to a nearby Sarasota County, Florida jail.

When corrections deputies frisked the man as part of their routine procedure, they found a condom in his rectum containing:

17 round blue pills, one cigarette, six matches, one flint, one empty syringe with an eraser over the needle, one lip balm container, one additional unused condom, a receipt from CVS pharmacy and a paper coupon.
You know a fella could have a pretty good weekend in Vegas with all that stuff.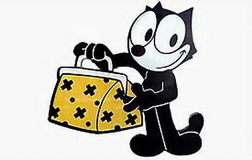 Yahoo group. That is all.
Tonight's post brought to you by the power of the stache: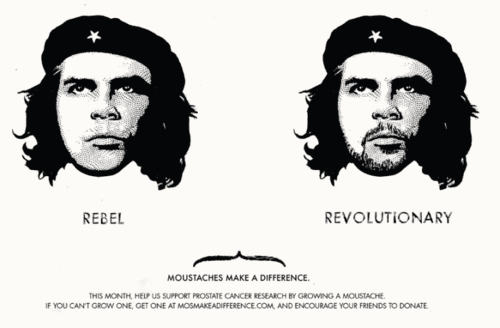 Notice: Posted by permission of AceCorp LLC. Please e-mail overnight open thread tips to maetenloch at gmail. Otherwise send tips to Ace.

posted by Maetenloch at
09:47 PM
|
Access Comments