« Rep. Issa's First Subpoena
|
Main
|
Media Showing Itself As Financial Catastrophe Denialists »
February 17, 2011
Showdown In Wisconsin UPDATE: New Tone?
Chris Christie gets a lot of attention for taking on public employee unions in New Jersey but newly elected Republican Governor Scott Walker in Wisconsin is really going at it with his state employee unions.
Walker isn't only talking about making public employees face reality about pay, health care benefits and pensions, he's attacking their right to organize and compel workers to pay dues.
Walker's plan would force state workers to cover half of their pension contributions and 13 percent of their own health insurance costs. Walker would strip government unions of the power to collectively bargain for higher wages unless approved by a public vote. The plan would also end compulsory dues payments for state workers.

Walker has said that if lawmakers don't agree to his plan, he will be forced to lay off 6,000 of the state's 170,000 workers.

The reaction has been intense in Madison, which is one of the great strongholds of organized labor and liberalism in the nation. Ten thousand labor activists jammed the state capitol, chanting and screaming at lawmakers. Schools have been shut down as unionized teachers conducted an organized "sick out" and brought their students to join the march against Walker.
Last night the Governor's bill passed in the budget committee and will be considered by the state Senate today.
Government school teachers, among others, are not happy and have shut down entire school districts across the state for two days so they can protest.
I have two thoughts on this...
1. Hell yes.
2. About time.
Public employees should not be allowed to unionize or if they are, they should be forbidden to contribute to political campaigns. The current system essentially allows the employees to buy off the managers (politicians) in order to rip off the owners (the public). It's a system that is corrupt by it's very existence. The proof of this is the public pension and benefits schemes that threatens to crush the fiscal solvency of many states.
Even that well known conservative, anti-labor President Franklin Roosevelt knew this.
Obama on the other hand, is siding with the budget busting, thug tactic using unions.
In an interview Wednesday with WTMJ-TV of Milwaukee, Obama said Walker's efforts to eliminate collective bargaining rights for state employees "seems like more of an assault on unions."

Obama said everyone has to recognize "fiscal realities," but public employees are "neighbors" like teachers, firefighters, social workers and police officers. "I think it's important not to vilify them or to suggest that somehow all these budget problems are due to public employees," he said.
I think Obama is just mad that Walker turned down over 800 million dollars in funding for high speed rail projects in Wisconsin.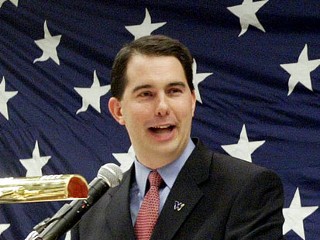 Wisconsin Gov. Scott Walker (aka The Man)
Just a note...Governor Walker is on Twitter and only has about 2,400 followers (hell, I have over half that many). You might want to follow him as a show of support.
Via Gabe...behold the balanced and peaceful rhetoric of the left.

posted by DrewM. at
10:12 AM
|
Access Comments