« RedEye, Gateway Drug
|
Main
|
Top Headline Comments 2-4-11 »
February 03, 2011
Overnight Open Thread
Researchers at National Geographic have created a map of the US showing the most common last names in each area:

A new view of the United States based on the distribution of common last names shows centuries of history and echoes some of America's great immigration sagas. To compile this data, geographers at University College London used phone directories to find the predominant surnames in each state. Software then identified the probable provenances of the 181 names that emerged.
Click on the map image to go to the interactive version.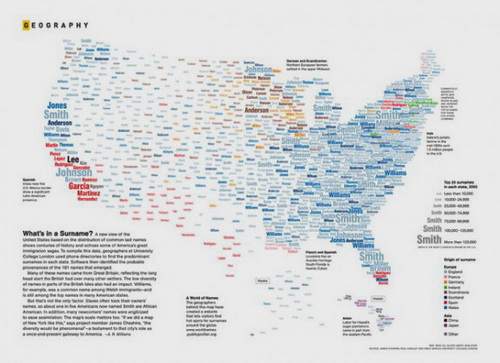 And to see the frequency of your last name around the world (down to the county level) check out the interactive map at PublicProfiler. They squeeze you for some email address but it's well worth it. Actually you can just leave the email field blank.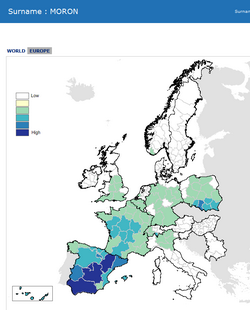 OMG The Brits Have Got NUKES!!!
Well actually they've had them for quite a while but they're quiet about it and don't seem to get the same shit over it that the US does. And we were even nice enough to let them test their later nukes at the Nevada test site. Here's some video of their first nuclear test back in October 1952.

"It's what I'm beginning to call death by GPS," said Death Valley wilderness coordinator Charlie Callagan. "People are renting vehicles with GPS and they have no idea how it works and they are willing to trust the GPS to lead them into the middle of nowhere."
...
"It's important for people to know that only a tiny portion of Death Valley has cell phone reception," search and rescue coordinator Micah Alley wrote in an e-mail. "GPS units are not only fallible but send people across the desert where no road exists."
I myself once got mislead by a GPS-shown road in Death Valley. The system showed a partially-paved road with about a 20 mile gravel stretch that was a shortcut from the west to east side of the park.
But about 30 miles into it the road had mostly petered out to gravel on (desert) gravel with the occasional rut to guide you. Calculating that I had 40 more miles of road to go, only 80 miles of gas, and just a few more hours of light left, I decided the better part of valor was to reverse my path and take the long but paved route.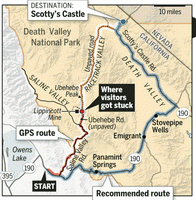 More On The Connection between Wheat and Egyptian Unrest

If fuel prices go up in food exporting nations as a result of Middle East instability, that will simply exacerbate the instability in a vicious cycle, though OPEC, every bit as obtuse and intransigent as Obama and Company, won't see that until it's too late. Keep in mind, too, that the long-term forecast is for colder winters over the next 20 to 30 years, because of AGW.
And why are the Egyptians so poor? Mainly the lack of a real legal system.

Egypt's underground economy was the nation's biggest employer. The legal private sector employed 6.8 million people and the public sector employed 5.9 million, while 9.6 million people worked in the extralegal sector.
As far as real estate is concerned, 92% of Egyptians hold their property without normal legal title.
Lack of title and provable income means it's virtually impossible to get any business loans which just feeds the vicious cycle of poverty and lack of investment.
Important Safety Tip for teh Morons: When You Buy Cobras, Don't Assume They've Had Their Venom Sacs Removed.
Even if the seller says he's pretty sure they're not poisonous any more. It's a common cobra rookie mistake:

Eric Bortz, 25, of Fair Lawn, purchased an albino Monacled Cobra, an Eastern Diamondback Rattlesnake and a copperhead snake in Pennsylvania over the weekend, police said. According to police, the man was told the cobra's venom sacs had been removed.

Bortz had several other exotic pets in his home including a tarantula, a scorpion and a rabbit.
But the sacs weren't removed and Bortz got bit on Monday and much medical drama ensued. i won't even discuss the dangers of rabbit attacks.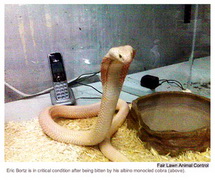 Code Pink Dupes Saved From Egypt Chaos by Evil Oil Company
So two Oregon women went on a Code Pink-sponsored trip to the middle east to help Hamas. But soon after arriving in Egypt they discovered that protesting against an actual thuggish government was rather more 'thrilling' than they had counted upon. Fleeing the violence they were trapped at the Cairo airport until some evil oil people took pity on them:

They found a group of other Westerners and stayed with them. Turned out they were a group of Shell Oil employees who had chartered a flight out of Egypt.

In the end, the two women left Cairo on that flight to Amsterdam.

"We were treated like royalty," Boyd said.

Shell put the two women up in a hotel in the Netherlands, where they plan to stay until Wednesday when they have a flight home.
Code Pink is mostly about symbolic gestures and playing fake revolutionary. But when actual shit hits the real world fan, they're utterly useless.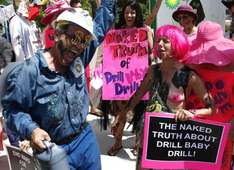 Chelsea Clinton Single Again?
Well that's what the National Enquirer is saying:

CHELSEA CLINTON's new husband walked out on her after a knock-down, drag-out fight over starting a family, sources say, and now the former first daughter wants an annulment! Just six months after marrying into the Clinton clan, Marc Mezvinsky has quit his cushy Wall Street job to be a ski bum in Wyoming, leaving a devastated Chelsea behind in their New York apartment, insiders say.
So all you lonely morons if you hurry, you could be her rebound relationship.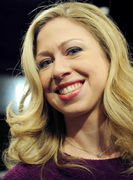 How The Magic Yellow First Down Line Gets There
Sportsvision has put a lot of engineering into this seemingly simple effect:

It takes lots of computers, sensors, and smart technicians. Long before the game starts, technicians make a digital 3-D model of the field, including all of the yard lines. While a football field may look flat to the naked eye, it's actually subtly curved with a crown in the middle to help rainwater flow away. Each field has its own unique contours, so before the season begins, broadcasters need to get a 3-D model of each stadium's field.
And then the backend processing begins.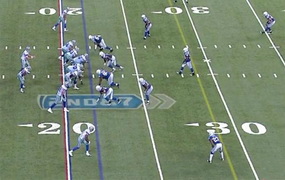 Yahoo group. That is all.
Tonight's post brought to you by desperate measures: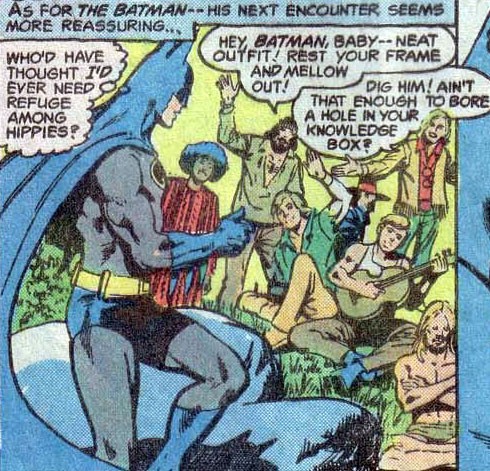 Notice: Posted by permission of AceCorp LLC. Please e-mail overnight open thread tips to maetenloch at gmail. Otherwise send tips to Ace.

posted by Maetenloch at
10:05 PM
|
Access Comments