« Loose Smack: Loose Change "Documentarian" Arrested For Sale of Heroin
|
Main
|
Top Headline Comments 2-1-11 »
January 31, 2011
Overnight Open Thread
Won the future again today. Woo hoo I'm on a roll.
Politico Now Assisting in The Assassination of Political Candidates
Really you say? Well then why else would they have a map of the US with target-y things over the districts and schedules of political candidates?!??
By the MFM's new Sarah Palin-AZ standard that's the same as putting out a hit on candidates, right?
Will no one put an end to this hateful imagery? At long last have you no sense of decency or irony?
Politico - take down this assassin's guide!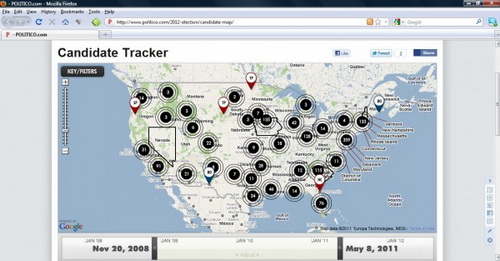 Why Paul Mirengoff Stopped Blogging at Power Line
Paul abruptly announced last week that he would no longer be blogging at Power Line but didn't give any reasons. I figured it was probably due to some kind of pressure from his personal life, and today William Jacobson at Legal Insurrection gives us the rest of the story.
Apparently Paul's recent critique of the Giffords memorial having a Yaqui prayer said when none of the victims was a follower of the Yaqui religion - the assumption apparently being that one religion's prayer is as good as any other - ruffled some native American feathers. Paul works at Akin Gump, a big law firm in DC, and another partner there, James Meggesto, took grave offense and demanded that Paul remove the post and apologize. Apparently fearing for his job Paul has disappeared the post, issued a groveling apology and ceased blogging. So bottom line: Political correctness/Indian casino money 1, Free speech 0.
So Who's To Blame For The Egypt Situation?
That's right - it was Barzini those crafty joos all along. At least according to the average arab anti-semite and Media Matters.
Crafty Joos® - what can't they do?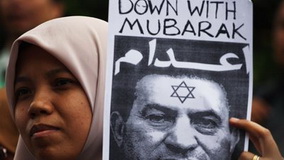 Sea Turtles!
Don't got to hibernate cause they live in the warm sea. Just chilling and swimmin. Do they know they taste like chicken?

Lessons in Parenting From Craigslist
So a 14 year old disrespectful brat gets taught a lesson AND you get an Xbox for cheap. Win-win in my book.

Tranny Watch: Transsexual model stirs Brazil fashion show

Brazilian transsexual model Lea T. stole the show Sunday at Sao Paulo Fashion Week as critics applauded her presentation and paparazzi mobbed her entourage.

The model, previously known as Leandro Cerezo and the son of famed Brazilian footballer Toninho Cerezo, received roaring applause as she took to the catwalk modeling a new collection by Alexandre Herchcovitch.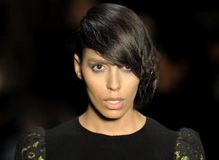 Also
Newly-formed Thai airline recruits 'Ladyboys' as air hostesses
Unironically the airline is called PC Air. (thanks to bebesboobsdestry)
Gene Roddenberry's Original Pitch for Star Trek
In this 16 page draft Roddenberry laid out his ideas for a sci-fi show about the SS Yorktown commanded by Capt. Robert April:

STAR TREK is a "Wagon Train" concept -- built arround characters who travel to worlds "similar" to our own, and meet the action-adventure-drama which becomes our stories. Their transportation is the cruiser "S.S. Yorktown", performing a well-defined and long-range Exploration-Science-Security mission which helps create our format.
NBC Dumps Their Iconic Peacock Logo?
For a font? And not a very interesting one. What is it with marketing people's compulsion for novelty? I actually like it when companies maintain their images and logos over the years. Makes me feel kinda warm and nostalgic towards them. Well as much as my basalt heart can feel these kind of human emotions.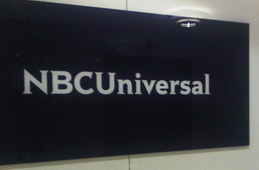 How Come Women Are Always Cold?
I always figured it was due to body fat and general weakness, but it turns out I was only half-right. Of course my caveman heritage comes through my mother so we're both comfortable wearing shorts and t-shirts most of the winter. Just wait until the next ice age hits and then we'll see who's too stupid and ill-adapted.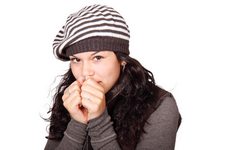 The Yahoo AoSHQ group. Bla bla bla. And don't forget about the Job Bank.
Tonight's post brought to you by revolutionary beards: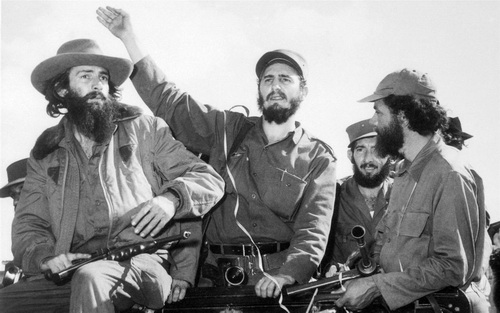 Notice: Posted by permission of AceCorp LLC. Please e-mail overnight open thread tips to maetenloch at gmail. Otherwise send tips to Ace.

posted by Maetenloch at
09:54 PM
|
Access Comments