« Ghurkas, Status: Still Bad Asses
|
Main
|
Top Headline Comments 1-28-11 »
January 27, 2011
Overnight Open Thread
Today I Won The Future! Again. I feel so accomplished.
Hey How Bout A Choral Version of Radiohead's "Creep"?
To be honest I never cared for the Radiohead song when it came out in the early 90s. But it went on to become a radio and karaoke fixture. Well now here's an amazing choral version of it performed by a Belgian girls' choir that I like much better. It appeared in a trailer for The Social Network earlier this year and has become a hit in its own right.
Why Your State Is Awesome
Okay here's a counterpoint to the map I posted a few days ago that has a more positive spin. Although I think they were stretching a bit when it came to Arkansas and Oklahoma.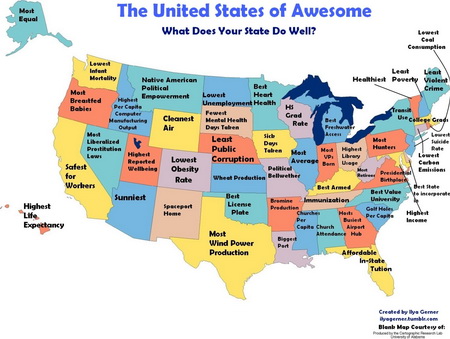 Everything Eventually Gets Made Into A Porno
And Burnsy over at FilmDrunk does the heavy journalistic lifting to find out just how true this is. While Hollywood is busy mining the superhero genre, Vivid Entertainment is busy parodying Hollywood. And laughing all the way to the bank and AVN awards:

So what sets the Vivid line apart from the others, director B. Skow?


"There's been lots of superhero parodies from other companies, but they always end up just parodying the character. I'm remaking [the 'Hulk' TV pilot] almost exactly, but with sex," says the film's director, B. Skow. "Instead of making it a joke, I'm trying to keep the drama of it."

And nothing preserves drama like watching two girls double team the Hulk while he screams, "HULK! SAY! NO! TEETH!"
And as a sign of just how far this trend has progressed even the Big Lebowski has a porn parody version. But since the Big Lebowski itself had a porn parody within the movie, I think we're now entering some kind of cinematic Möbius strip.

How To Catch A Baby
Is your domicile overrun with rug rats? Well here's a humane way of trapping them so you can properly dispose of them via ebay or your local white slavers.

Court Rules D&D Too Dangerous For Prisons
Apparently because it's too gang-like. From the ruling:

'during D&D games, one player is denoted the "Dungeon Master." 'The Dungeon Master is tasked with giving directions to other players, which Muraski testified mimics the organization of a gang.'
So when I told my level 4 Minions to attack César with a +3 Knife of Shiving, well that was actually just part of our Dungeons of SingSing role-playing adventure.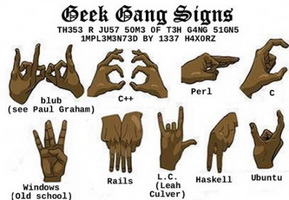 More of The Truck-Eating Bridge
This time with a GBU soundtrack. And it's not like the city hasn't tried to prevent people from accidentally driving into it with overheight trucks:

The city has installed "low clearance" signs on 3 blocks leading up to the trestle. There is a warning sign with flashing lights that are triggered by vehicles that are too tall. I think the high frequency of crashes here is due to many inexperienced (rental) truck drivers going too fast approaching the bridge. IMO the city ought to enforce the 25MPH speed limit more vigorously along this stretch, which would address other traffic issues as well.
Is Yellow Fever Now on the Rise?
Well I could explain it with words but I'll let slave animators over at Taiwan's NMA explain it instead.

Baseball Pitcher Turns Down $12 Million Because He 'Didn't Earn It'
So Kansas City Royals pitcher Gil Meche is retiring from baseball this season due to a chronic shoulder problem. Contractually he's owed $12 million for the 2011 season whether he plays or not. However in an unusual occurrence Meche has turned down the paycheck since he doesn't feel that he's actually earned the money:

"Once I started to realize I wasn't earning my money, I felt bad. I was making a crazy amount of money for not even pitching. Honestly, I didn't feel like I deserved it. I didn't want to have those feelings again."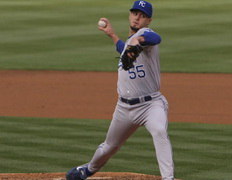 The Tiger Mom Meme
So there was a huge kerfuffle last week over Amy Chua's essay, "Why Chinese Mothers Are Superior", along with many, many, many rebuttals. Well now it seems to be on its way to becoming a full-on internet meme. And maybe if you weren't so lazy, you know this already.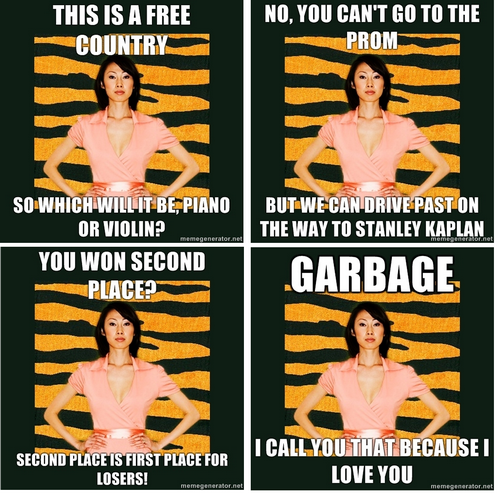 Yahoo group. That is all.
Tonight's post brought to you by Back to the Unimaginative Future:


Notice: Posted by permission of AceCorp LLC. Please e-mail overnight open thread tips to maetenloch at gmail. Otherwise send tips to Ace.

posted by Maetenloch at
09:58 PM
|
Access Comments