« Breaking: Illinois Supreme Court Puts Rahm Emanuel Back On Chicago Mayoral Ballot
|
Main
|
Overnight Open Thread »
January 27, 2011
Ghurkas, Status: Still Bad Asses
They bring a knife to the fight, you bring a khukuri.
"They started snatching jewelry, cell phones, cash, laptops and other belongings from the passengers," Shrestha recalled. The soldier had somehow remained a silent spectator amidst the melee, but not for long. He had had enough when the robbers stripped an 18-year-old girl sitting next to him and tried to rape her right in front of her parents. He then took out his khukuri and took on the robbers.

"The girl cried for help, saying ´You are a soldier, please save a sister´," Shrestha recalled. "I prevented her from being raped, thinking of her as my own sister," he added. He took one of the robbers under control and then started to attack the others. He said the rest of the robbers fled after he killed three of them with his khukuri and injured eight others.
Memo to potential suitors of this guy's sister: mind your manners.

Like the commenter said, "I love a story with a happy ending".

via the Man of Substance, the Only Important Lighting Guy Up In That Booth
UPDATE: Some of are you are wondering, what the hell is a khukiri?
Wonder no more (via commenter Kratos, Ghost of Sparta, cheerleader afficianado extraordinaire).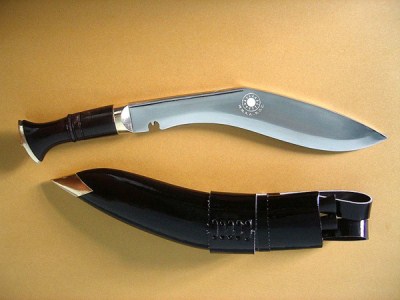 posted by Dave In Texas at
07:42 PM
|
Access Comments