« New Year's Day College Football Bowl Game Extravaganza Thread
|
Main
|
Now, It's Time For The NHL Winter Classic »
January 01, 2011
Not The NHL Winter Classic Game Thread
For the last few years we've used the Winter Classic as a chance for hockey morons to enjoy a moment in the HQ sun.
Today would have been no different, except now the game has been postponed to 8pm tonight because it's 50 degrees and rainy in Pittsburgh right now. We'll do a thread then but for now, here's an open thread.
If you're at all interested in the game, you should check out the HBO 24/7 series leading up to today's game between the Capitals and Penguins. Both teams and the NHL gave HBO total access to anything the wanted. The result is like candy to hockey fans and great TV for anyone remotely interested in what it's like to be a professional athlete.
If you're not up for watching the full hour long episodes, check out these two 15 minute segment from episode 3 highlighting last weeks game between the two teams. Fortunately, it lived up to the hype and the coverage HBO provided from all angles is simply amazing.
Fair warning...players, coaches, and referees were mic'ed up and there are enough F-Bombs to make even the most lurid moron blush a bit.
See you back here tonight for the game thread.
Seriously guys...LOTS of F-Bombs. Watch at your own risk.
You can see Episode 1 here and Episode 2 here. (content warning still in effect).
One other thing: Unlike football, in hockey scantily glad women aren't just decorative, they get put to work.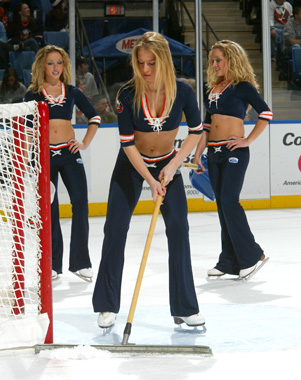 Advantage: Hockey.

posted by DrewM. at
02:12 PM
|
Access Comments