« Wow: China To Bail Out Europe?
|
Main
|
Adorable Little Tyke Celebrates The Joy of Reading, Picks Up Honorary AoSHQ Membership Card »
December 23, 2010
Funny but Awful Also Funny: Jets' Coach Rex Ryan's Wife May Or May Not Be, But Is, Some Kind of Foot-Fetish Internet Queen
We were told by one source that if this is Michelle Ryan, there's no way Rex knows about it. But listen closely to the voice of the cameraman. Multiple viewers, including a YouTube commenter, have observed that it sounds an awful lot like Rex. Now, we're not into feet or anything, but if that is indeed Michelle, and that is indeed Rex, well, more power to the both of them. Like many, many people out there, Rex is just in love with his wife's feet. Shit, it's almost romantic.

But the connections only begin with surface resemblances. We found "ihaveprettyfeet"'s personal profile on a foot fetishist dating site. She lists her location as Ellicott City, Md. When Rex Ryan was an assistant coach with the Ravens, his profile on the official team city had him living with his family in Ellicott City, Md. Michelle Ryan was born in August 1963, a Virgo. "ihaveprettyfeet" lists herself as a Virgo. Michelle Ryan taught high school English before retiring to raise her kids; "ihaveprettyfeet" has a graduate degree, is married with kids, and lists herself as a homemaker. Michelle Ryan once said that, in heels, she was "a foot [shorter]" than her 6'4" husband; "ihaveprettyfeet" lists herself as 5'2". To be sure, there is also an Ellicott City "ihaveprettyfeet" listed on this swingers site. It's a couple's profile. The husband checks in at a very un-Rexlike 5'10, 180 pounds.
steve_in_hb says in a press conference yesterday, Ryan was actually asked about this newest Deadspin sex hit, and answered that he was only taking football questions, which is well-known football slang for "ilikeprettyfeet."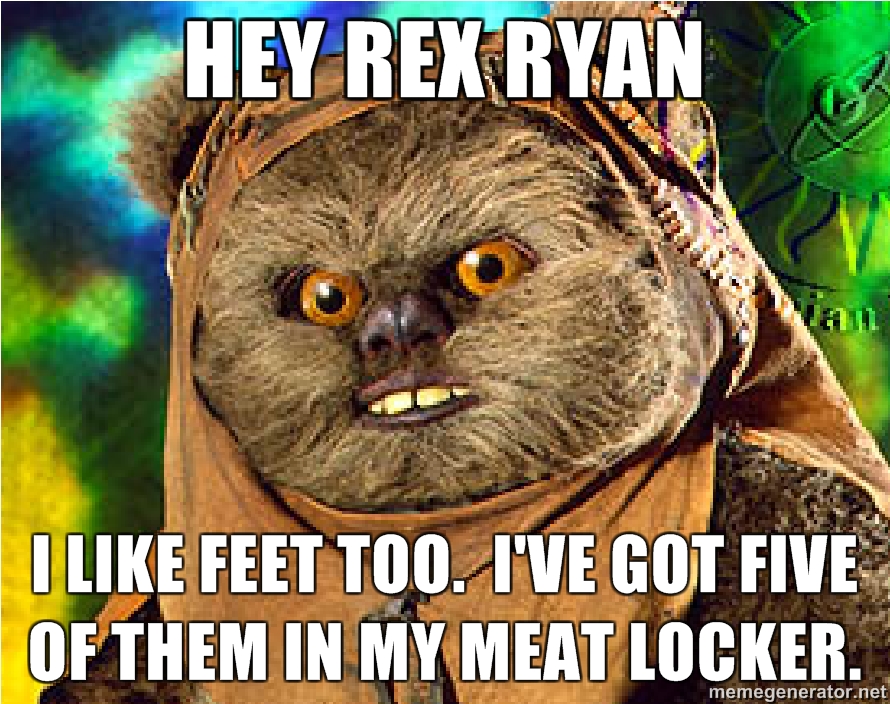 Let's Go Jets Go: Of course Favre asked that woman for a masturbation video.
Of course, the Jets aren't the only team in NYC with sex scandals. The Giants, for example, are rumored to enjoy a dangerous choking fetish.

posted by Ace at
04:10 PM
|
Access Comments