« Midday Late Afternoon Early Evening Overnight Open Thread - "Make Money Now, Ask Me How" Edition [Rajiv Vindaloo]
|
Main
|
Department of Justice Rocked by Investigation [rdbrewer] »
November 24, 2010
Memo To William F. Buckley, Jr. [Journolist]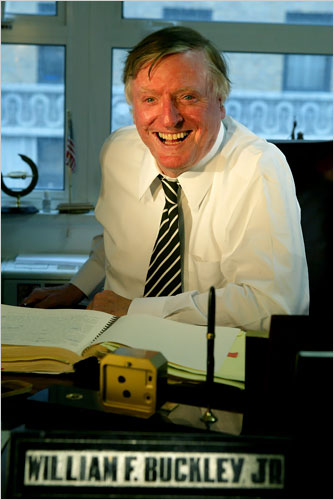 Dear Bill,
Happy Birthday.
We have had a rough patch here State side lo these past 22 months with the besting of America by the incorrigible voices of progressive liberalism; some call them democrats, but most now, bastards. And why not, I say.
For the progressive troika of politicos, talking heads to the intellectually stunted executive branch, have perfected their fevered goose-steps toward Government, Inc. USA. The Italian patron of fascism, Benito Mussolini himself would be proud of the troika's hard left turn and the merging of state and corporate powers laced with the threat of congressional investigations and governmental retaliation.
America has been operating in a fog of late, not quite sure where to step but always reminded of the bellowing of the all powerful state run fog horn; the fog horn operator is America's 22 month old president whose advancement from community organizer to half term U.S. Senator to President is what slick packaging and smoke and mirrors buys these days.
But alas, America has awakened - awakened to the shock and the horror of allowing itself to be duped by the talkers of smooth.
America is demanding the state stand down and release its grip. We had a midterm election a few weeks back and America spoke loudly and clearly. Power was taken away from the liberals and returned to the people with the election of 63 conservative republicans to congress along with 6 new conservative republican senators and over 600 conservative republicans elected to state and local office throughout the country.
As you can see Bill, we ain't letting the bastards wear us down.
Oh, and tell Buchwald that the guy f/k/a Barry Soetoro is president, and was recently in India dodging coconuts and apparently Americans.
That's all for now + requiescat in pace,

-J

posted by Open Blogger at
07:52 PM
|
Access Comments