« Yeah, about not flipping the Senate this year...
|
Main
|
Phooey - They're Calling it for Bennet »
November 03, 2010
GOP Takes Maine
This is something I never thought I'd type: the GOP now controls the Maine State House and the Blaine House.
AUGUSTA, Maine — The Bangor Daily News is projecting that Republican Paul LePage will be the next governor of Maine, holding a 7,500 vote lead over independent candidate Eliot Cutler with just a few precincts yet to report in what turned out to be a nail-biting battle for the Blaine House.

Cutler called LePage to concede the race around 11 a.m. Wednesday, according to Cutler Campaign Manager Ted O'Meara.
Polls showed the race much less competitive, but a lot of Democrats were nervous enough at the prospect of a LePage victory to abandon their candidate.
And abandon her they did. In this blue state, the Democrat was only able to earn 19% of the vote. And both Democrats won their Congressional campaigns, which shows just how schizophrenic Maine voters are.
Still, Maine's electoral map now looks like this: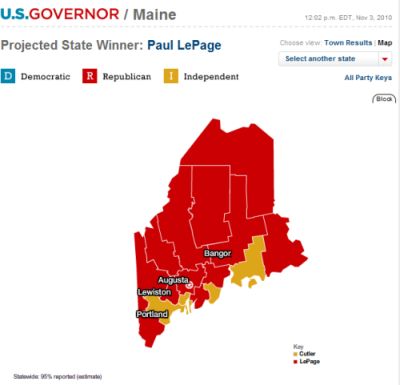 From a homeless 11-year-old in Lewiston to governor of the state.
Congratulations, Paul LePage.

posted by Slublog at
12:08 PM
|
Access Comments