« The Real Rally To Restore Sanity: Chris Gibson In NY-20
|
Main
|
Not to look past Election Day, but... (tmi3rd) »
October 30, 2010
Overnight Open Pre-Hallow's Eve Thread
It was a dark and stormy ONT…
Some mood music:
The Compleat Online H.P. Lovecraft:
In case you need to brush up on your Cthulhu Mythos studies while the stars reel sickeningly overhead. The site apparently contains his entire body of work…if you dare enter. From "The Mountains of Madness:"
"At the time his shrieks were confined to the repetition of a single mad word of all too obvious source:"

"Tekeli-li! Tekeli-li!"
Aw shit…I gave away the ending. Let me make it up to you with a bonus cheerleader below the fold...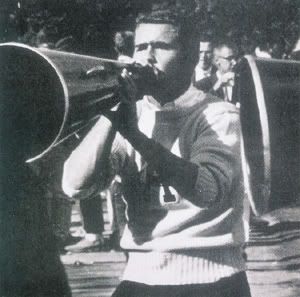 suckers
Spooky: A Cell-Phone Turns up in a Charlie Chaplin Movie?
Nah, but it's Halloween Eve so just go with the flow, would'ja?
With Friends like These…
A Seattle man is recovering at Harborview Medical Center's burn unit a week after being doused with flammable material and lit on fire by friends.
"According to a police report, the incident occurred October 23 at an apartment in the 800 block of Pine Street. The victim told police he was shirtless and on his hands and knees cleaning a shower at his friend's apartment when he suddenly felt a warm liquid being poured over his body. He soon felt an intense pain and realized he was on fire."

"He was able to pour water over his body to extinguish the flames, but not before suffering second degree burns on 36 percent of his body. The victim said his friends stood by and watched his skin turn red and form blisters, but refused to call 911. The man eventually took a cab to Harborview (Medical Center), where his injuries were treated."
Added: It occurs to me that maybe the term "cleaning a shower" might be something I should look up in the The Urban Dictionary? I'm a little naive about these things.
They were just funnin' with him though…
The victim told police that the friends visited him at the hospital the day after the incident and said the whole thing was meant to be a prank. They reportedly told him that they'd done that type of activity before and that nobody had been hurt, but they said "they used a different type of fluid" in the previous pranks.
Like what…urine? But I'm sure all is forgiven and as soon as his skin crusts over and the oozing pus is under control he'll be back cleaning his buddy's shower once again.
You know, Cthulhu would never set you on fire if you were cleaning HIS shower, would he?
Hug me!
And for no Particular Reason, the World's Largest Model Railroad:
Or so they claim. I'll stack up my 3 foot Lionel closed loop against this any day of the week. Cocky-ass Krauts...
Project Cockholster, Re-branded:
I mentioned it last week but didn't follow up on it. I can't find the damned original post because there's no actual search function on this here blog. To summarize, the idea was that if every comment in the ONT included "cockholster" then we'd show up as the number one return on a Google search for the word. And bless yer dark, shriveled hearts you delivered.
But for whatever reason we never moved up beyond #13 or so.
However, the other day I noticed a post by Ace where he 'splained why he used the term "Suckers of Cock" in favor of "Cocksuckers" and a very tiny, dim lightbulb went off over my head. And I'm still cleaning the glass out of my hair. So what say we try again? Except this time it's "Project Holster(s) of Cock"
So say we all? Eh, why bother. You'll let me down once again. Just like you did with Project Bacon Emancipation. *sniffle*
Happy Baturday!
They're always at their cutest just before they bleed you dry…
Tool:
They're always at their cutest just before they create really creepy and depressing vids…
Notice: Posted by permission of AceCorp LLC. Please e-mail overnight open thread tips to xgenghisx@gmail.com. Otherwise send tips to Ace.

posted by Genghis at
10:00 PM
|
Access Comments