« The Point to Take Away From L'Affaire Williams
|
Main
|
Harry Reid: You Know Who Saved You From Another Great Depression? Me, Harry Reid, That's Who »
October 21, 2010
Overnight Open Thread
Thanks to a busy, busy day tonight's ONT will suck 18% more. Ready yourselves.
Mrs. Clarence Thomas Leaves Some Voicemail For Anita Hill
I had pretty much forgotten about Anita Hill but Virginia Thomas hasn't:

A few days ago, Brandeis University professor Anita Hill received a message on her voice mail at work.

"Good morning, Anita Hill, it's Ginny Thomas," said the voice. "I just wanted to reach across the airwaves and the years and ask you to consider something. I would love you to consider an apology sometime and some full explanation of why you did what you did with my husband. So give it some thought and certainly pray about this and come to understand why you did what you did. OK, have a good day."…
Now I'm down with the whole best-served-cold thing since I too carry several torches of hate in my heart. But what makes you act on it at 7:30am on a Saturday after 19 years? I always find that the V is best served cold and pairs well with whiskey, Red Bull, and the cover of darkness.
And don't forget about the Juan Williams-Clarence Thomas connection.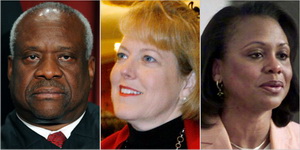 More on WisCon, the Feminist Sci-Fi Convention
If you haven't read Ace's story about it yet, go check it out. And here is a blog post by someone who apparently attended last year's WisCon and has some snarky comments and pictures to share:

If you are unfamiliar with this con, it is like any other sci-fi con, except that well over half of the attendees are female, about a third of the panels are political, there is no gaming, and absolutely everybody is a huge bitch.

This is my second year attending WisCon. I go because I love this. I remember how much I hate my fellow women, and then I go the whole rest of the year thankful that normal life is never this horrible.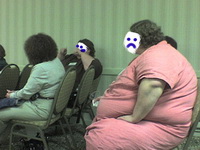 How About a POV Formula One Crash
Seems like it might be a tad painful. (thanks to CDR M)

Remembering Kolchak: The Night Stalker
Before Darren McGavin was known as the dad in A Christmas Story he was Kolchak, the reporter who specialized in handling all the 'weird' stories. It only ran for a single season in the 70's but has lived on in re-runs. In fact it was the original inspiration that led Chris Carter to create The X-Files.
Not only did it have interesting 'monster' stories and characters, but it also had a certain amount of wit. I remember one episode where an extraterrestrial had sucked out the marrow of several people and visited a planetarium - Kolchak's summation was something like "In the end he wasn't too different from you or me - just a traveler who stopped off for a snack and directions on a long, lonely journey".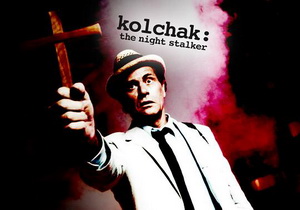 The 1983 VHS Video Catalog
In the early days of home video there often wasn't a lot choice in videos since major studios hadn't quite gotten on board yet. So here's a little sample of the drecky selection people had back then. And they liked it.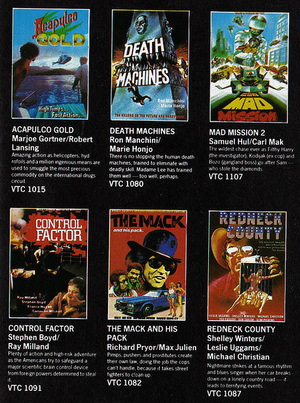 How J.K. Rowling Organized Her Books
No need for fancy programs - she just made her own spreadsheet using a pen and pad using columns for chapter number, story timeline, chapter title, main plots and subplots. Thsi particular sheet is from The Order of the Phoenix.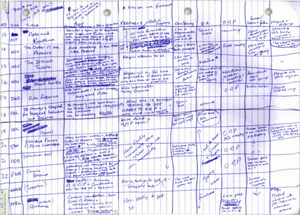 Afterheels: Disposable Eco-Shoes For Women
What do you do after a Big Night Out in heels? Well now you can buy some Afterheels from a vending machine, wear them home in comfort and toss'em when you're done.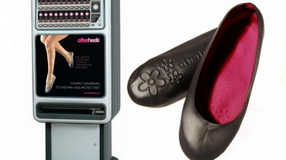 Yahoo group. That is all.
Tonight's post brought to you by the zombie danger axis: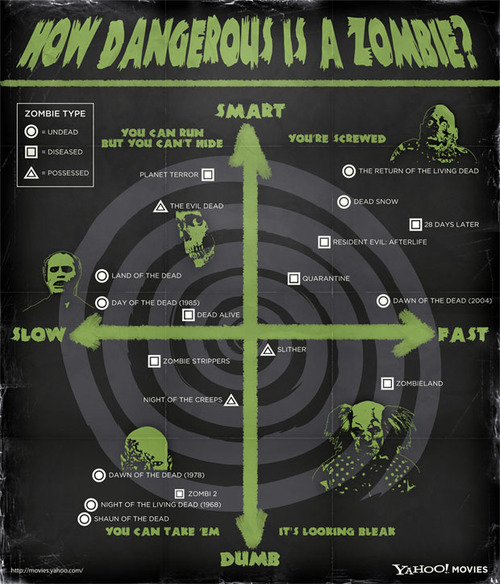 Notice: Posted by permission of AceCorp LLC. Please e-mail overnight open thread tips to maetenloch at gmail. Otherwise send tips to Ace.

posted by Maetenloch at
09:44 PM
|
Access Comments