« Awkward: Jonah Goldberg Interviews Two Conservative Contributors To His Book On CSPAN2, Finds Out They Just Actually Broke Up With Eachother Acrimoniously, Spends Next Several Minutes Wondering What The Hell Is Going On
|
Main
|
Halo No More: Recent Pictures of Obama Show Depict Him As An Angry Lunatic »
October 18, 2010
For Congress: Jesse Kelly AZ-8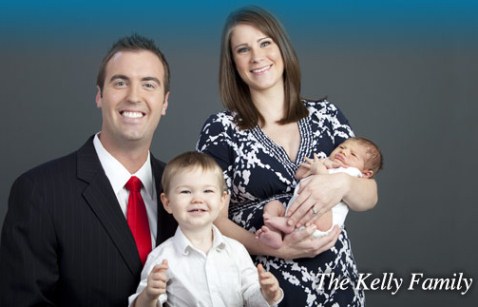 The Race-
2 term incumbent Democrat Gabrielle Giffords vs. conservative and Iraq war vet Jesse Kelly in Arizona's 8th Congressional District.
It's a moderately Republican district (used to be represented by Jim Kolbe) that went for Bush and McCain in the last two Presidential elections but has been represented by a Democrat for the last 4 years.
The Candidate (from his website)-
Jesse and his wife, Aubrey, live in Marana, a town just northwest of Tucson, Arizona. They are raising two sons, James and Luke. The family attends Alive Christian Church in Marana.
Jesse is a project manager of Don Kelly Construction, his family's contracting business, where he oversees multi-million dollar infrastructure projects. As a project manager, Jesse has balanced budgets, made payroll and hired hundreds of people.
From 2000-2004, Jesse served in the United States Marine Corps. In 2003, he was deployed to Iraq, where he led a squad of infantry Marines in combat. Jesse was honorably discharged as a Sergeant. He was awarded a good conduct medal, and his unit was awarded the Presidential Unit Citation.
Jesse made the decision to run for Congress the day President Obama signed the wasteful, $787 billion stimulus package. He will fight for solutions that work in order to create jobs and get the economy moving again. Jesse's military leadership and business experience are exactly what we need in a Representative to Congress.
Why Kelly Can Win-
Kelly is riding the wave this year. He's an outsider, small government conservative running in a district that is traditionally Republican but went for the Democrats in their big years of '06 and '08. If it's ever coming back to the GOP, this is the year and this is the guy.
On the issues, Giffords supports amnesty and opposes the Arizona immigration law. She voted for the so-called "stimulus", health care reform and cap and tax.
Kelly? Not so much on those issues.
He also has a very good take on why talk of bi-partisanship is so dangerous.
"People want their representatives to work together in a bipartisan way to get things done," said Giffords, who touts her 2009 rating by the nonpartisan National Journal as the most centrist member of Arizona's congressional delegation. "My opponent has said some remarkably tough statements such as, 'Hopefully, there will be no Democrats left in Congress' after the election and that he wants to 'crush liberals.' That's not my approach. To be a community leader, you need to bring people together."

Kelly, an Iraq war veteran who grew up in Montana and has never held elective office, scoffs at the idea of bipartisanship.

"Bipartisanship in Washington means Republicans selling out their conservative principles in order to appear nice on MSNBC," he told a town-hall meeting at the Oro Valley Country Club.

Kelly blasts Giffords for voting for health-care reform. He also criticizes her votes on an energy bill that sought to reduce global warming but which critics said would increase energy costs. And he said the $787 billion stimulus bill that Giffords supported has not created jobs.

"Gabrielle Giffords has provided four years of failure - on the border, on unemployment, on the deficit," Kelly said.
Kelly is endorsed by Combat Veterans for Congress.
Real Clear Politics says the race is a toss up.

posted by DrewM. at
04:10 PM
|
Access Comments