ę Top Headline Comments 10-13-2010
|
Main
|
Drug Cartel Decapitates Police Investigator Assigned To Lake Murder Ľ
October 13, 2010
For Congress: Matt Doheny NY-23
(Part of an Ace of Spades HQ campaign to highlight races that can be won but need your help)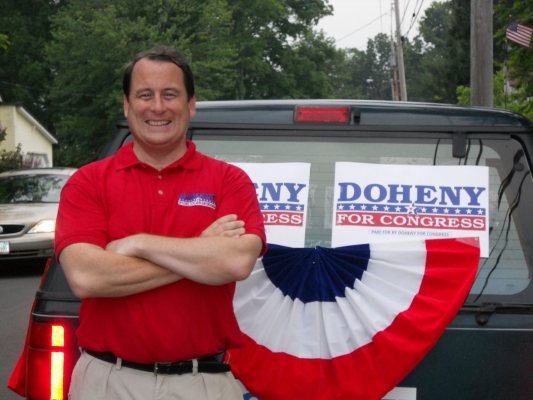 The Race-
Our old friend, NY-23. Doug Hoffman and Dede Scozzafava (with a big assist from Sarah Palin) made this district one most famous thanks to the 2009 special election to replace longtime Republican Congressman John McHugh, (who was appointed Secretary of the Army by President Obama).
The intra-party warfare enabled Democrat Bill Owens to take the narrowly take the seat in a fractured field (Owens 48.3%, Hoffman 46% and Scozzafava 5.7%)
During the special election campaign the district was often described as having elected a Republican to the House since the 19th Century. That was always stretching the point given the amount of redistricting that occurred over the years.
Cook says itís an R+1 but it elected McHugh for a number of years and as evidenced by his appointment to the Obama administration, he wasnít exactly a hard core conservative. The district did go to Obama in í08 narrowly but had supported Bush in 04.
This year one time conservative star Hoffman ran for the GOP nomination but was defeated by businessman Matt Doheny. Doheny is running as an outsider with real world business experience (law and finance) on a traditional lower taxes, lower spending, "Repeal and replace the health care bill..." and strong national defense. The latter may be more important in this race than many in NY as the district is the location of Fort Drum, home of the 10th Mountain Division.

The Candidate (from his website)-
(Doheny) is not a career politician, but someone whose experience and track record have centered on his career path in the business world. At a time when the federal government is running historic deficits and the nation is coming out of the worst recession since the depression, people in the North County, Adirondack Region and Central New York need bold new ideas. Matt has the business and finance experience needed to help turn around our nationís economy and bring much-needed jobs to our region.
Ö After practicing law for a few years at several firms including Hancock & Estabrook in Syracuse, NY, Matt decided the law wasnít for him and went into the business world. It is in this world during the last ten years that Matt has produced a track record of great success helping large troubled companies reorganize, recover from bankruptcy, save jobs and prosper.
He worked as a Managing Director for Trouble Assets at Deutsche Bank from 2000 through 2008. Here, Matt helped purchase debt of troubled companies like Air Canada, Pacific Gas & Electric and Adelphia and assisted them in restructuring so they could once again operate independently.
In 2008, Matt left Deutsche Bank to join Fintech Advisory, where he currently works as a portfolio manager.
Itís this type of business experience that gives Matt firsthand knowledge of what it takes to bring a large company back from the brink of financial ruin, which is a skill that will be highly useful in dealing with the economic crises our country is facing today.

Why Doheny Can Win-
Originally Hoffman was going to mount a 3rd party challenge on the Conservative Party line but he has subsequently dropped that bid and endorsed Doheny. (On the downside, Hoffmanís name will still appear on the ballot. Even after she dropped her bid, Scozzafava was still able to pick up 5% of the vote and likely cost Hoffman the seat last year)
Owens originally ran on opposition to the Democrats health care proposal but within minutes of taking his seat, he backtracked and supported the Pelosi bill.
The NRCC released in an internal poll in the wake of the Hoffman withdrawal showing Doheny up by 14 points.
While internal party polls are always suspect, the DCCC is clearly concerned that with Hoffman out of the race, Owens is in trouble and they have increased their ad buys in the district.
Cook has the race a toss-up at this point.
How nervous are the Democrats about this race? Owens is now running ads touting how much he voted with Nancy Pelosi John Boehner.
The GOP says Owen is a lying SOB.

posted by DrewM. at
10:02 AM
|
Access Comments