« Moron Picks, Week 5
|
Main
|
Overnight Open Thread »
October 12, 2010
For Congress: Jason Levesque, ME-2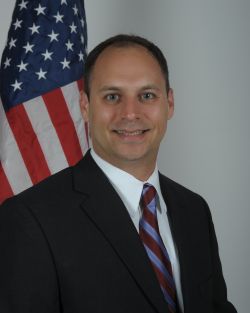 Meet Jason Levesque, Republican candidate for Congress, Maine's 2nd district.
The Race
Jason Levesque is running against Rep. Michael Michaud in Maine's second Congressional district.
The last Republican elected in that district was Olympia Snowe, who left that office in 1995 after winning the senate seat she currently holds. Since then, the seat has been held by Democrats - first John Baldacci (now Maine's lame-duck governor) and Michael Michaud. In 2002, Michaud ran as a moderate, pro-life Democrat and was narrowly elected. He was the only freshman Democrat to vote for the ban on partial-birth abortion.
Enter the Obama administration.
Michaud voted for the stimulus, for Obamacare and for card check. Like most Blue Dog Democrats, Michaud's 'moderation' crumbles under pressure from Democrat leadership. I should say here that I like Mike Michaud. I've met him a number of times and he's a nice guy. However, his votes on the stimulus and Obamacare are deal-breakers for me, and it's personal. Michaud's inability to say no to Nancy Pelosi has helped lead this country into frightening levels of debt. Debt that my daughters will have to pay back someday.
The Candidate (from his website)
After graduating from Edward Little High School in Auburn, Levesque started college at West Virginia Wesleyan University. Unfortunately unable to continue paying for college, he left after several semesters to enlist in the United States Army. He served in the First Infantry Division and earned the highly-prized Expert Infantry designation. His leadership abilities were first noticed by superior officers who elevated him in rank and responsibilities as an Infantry Team Leader. Upon discharge, he served six years in the U.S. Army Reserves, including several extended tours of duty as a Drill Sergeant at Fort Leonard Woods, MO.
Levesque continued college at the University of Southern Maine, working to pay his tuition. His jobs included swimming instructor for the Portland School System and Lewiston YWCA. He also took his leadership skills and knack for organization to several marketing firms where he managed and trained employees around the country. It was with this experience and background that he began Argo Marketing Group and built it into a nationally recognized Marketing logistics firm.
Levesque is married to the former Tracey Bilodeau, who grew up in Augusta and attended Cony High School. She is a graduate of New England Culinary Institute. She has a successful career as a chef and restaurant manager, which she has put on hold to raise a young family.
Jason and Tracey live in Auburn with their three children: Alexandra (Ali), 12; Ethan, 4, and two year old Sarah.
Why Levesque Could Win
Well, to start...this. Obama won this state by 17 points in 2008. His approval rating is now -7, and the second district is more rural and conservative than the first. In a PPP poll of the district taken last month, Levesque is within striking distance of Michaud.
Maine loves re-electing incumbents, but if Republican turnout in the district is heavy enough, Levesque could pull out a win. I've noticed that Michaud is running more ads this year than in previous years, but his independent image has been tarnished by his allegiance to the Obama/Pelosi agenda.
Levesque is in a hard fight, but this is a year in which hard fights seem a bit more winnable. With enough support, and turnout, he could ride the wave and send Mike Michaud into retirement.
If you can, help send a fiscally conservative small business owner to Congress and take away one of Nancy Pelosi's Blue Lapdogs.

posted by Slublog at
09:30 PM
|
Access Comments