« Did GM "Lie" About The Volt?
|
Main
|
Holy Schneikes: Jake Tapper Asks About Long Form Birth Certificate »
October 11, 2010
Harry Reid Sees Dead People
Alternate headline, Harry Reid is a sub-moronic ass.
Asked to name "a greatest living American" most of us would name a person who is objectively "living" and an "American", the greatness being a bit more open to interpretation. Harry on the other hand goes with two guys who are dead...Ted Kennedy and Robert Byrd.
Call me crazy but I don't think a guy who got liquored up and killed a woman or a man who rose up the ranks of the Klu Klux Klan should be on anyone's list of "greatest American", living or dead.
Just remember though...Sharron Angle is an idiot who can't be let near the Senate. And according the Mensa member Harry Reid, Clarence Thomas is "an embarrassment to the Supreme Court".
FTR-I'm not sure who the greatest living American actually is but I'm willing to bet you have to go pretty far down the list before you come to a career politician. I'm positive this guy and his compatriots come way before just about anyone in the US Senate.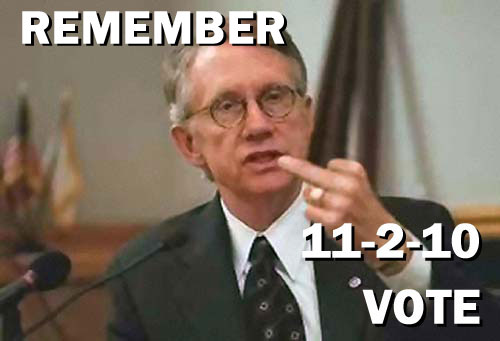 As always...SluShop courtesy of The Man, The Myth, The Legend.
Bonus fun...Reid aide may have used insider information to profit from legislation before the Senate.

posted by DrewM. at
04:46 PM
|
Access Comments