« "We make men without chests...
|
Main
|
Former Liberal Darling Candidate For House Says He Won't Vote For Pelosi As Speaker »
October 06, 2010
Overnight Open Thread
Welcome to tonight's semi-half-assed hump day ONT.
What Intrade Is Saying About the US Senate Races
As of Monday here are their odds on some of the closer Senate races:

Arkansas, 95% chance to flip to Republicans
California, 24% chance to flip to Republicans
Colorado, 63% chance to flip to Republicans
Connecticut, 25% chance to flip to Republicans
Delaware, 10% chance to flip to Republicans
Illinois, 53% chance to flip to Republicans
Indiana, 86% chance to flip to Republicans
Nevada, 38% chance to flip to Republicans
New York, 38% chance to flip to Republicans
North Dakota, 97% chance to flip to Republicans
Pennsylvania, 84% chance to flip to Republicans
Washington, 35% chance to flip to Republicans
West Virginia, 56% chance to flip to Republicans
Wisconsin, 87% chance to flip to Republicans
So I'd say the GOP probably has a base pickup of around 5 seats and might be able to stretch it out to 9 (giving them 50 seats) depending on how strong the Republican wave is. But currently the Intrade odds of the GOP ending up with 50+ seats are only running at 32%.
And here's Karl Rove's estimate from last week: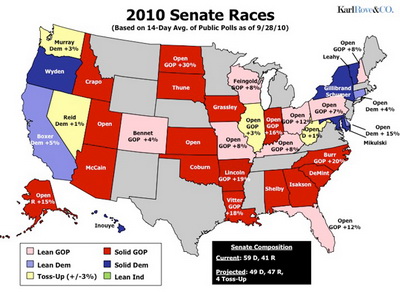 How The Europeans See Europe
If there's one thing Europe has too much of, it's diversity. And here are some humorous but mostly kinda true maps of how various Europeans view the diverse sub-human bastards they call fellow EU citizens. So to start with here's the German view.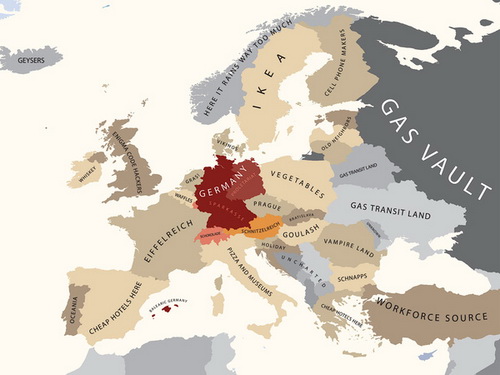 And then later there's how the American see the Europeans: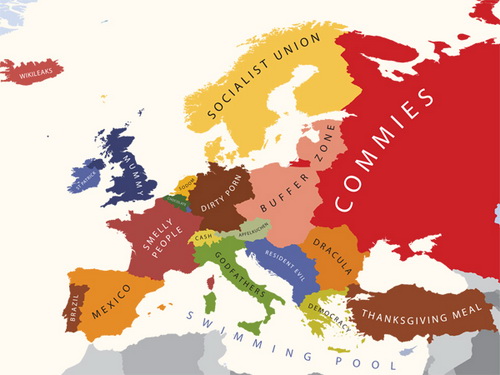 Illegal Alien Nicky Diaz Sues Whitman for $6,210
Claiming that she worked an average of 18 hours a week but only got paid for 15. And that Meg Whitman didn't buy her a gift for her newborn son. Given that Diaz has admitted to being here illegally for years and doesn't seem to have worked since last year, maybe someone should drop a dime to ICE. Their number is 1-866-DHS-2-ICE.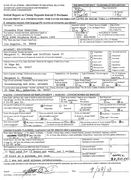 Some 80's Retro Video Fun
This song popped up on my playlist while I was out running a few days ago and now seems to be making the rounds on the intertubes. It's synchronicity baby!

The Next Hawt Russian Spy/Hacker
Forget Anna Chapman - now there's Kristina Svechinskaya who's believed to be part of a gang of hackers who have stolen over $10 million through computer theft. But no matter how tempting just remember that Russian femme fatales will break your heart, empty your bank account, and turn into babushkas at midnight on their 46th birthday. So forewarned is forearmed.

Remembering The World's First Miracle Drug
"It was injectable insulin, long sought by researchers all over the world and finally isolated in 1921 by a team of squabbling Canadians. With insulin, dying children laughed and played again, as parents wept and doctors spoke of biblical resurrections."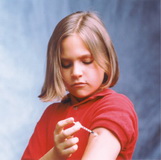 My First Exo-Skeleton Walker
Just 5 feet high and 396 lbs it makes the perfect first mecha for kids. It mostly shuffles but that's okay because first you have to learn to shuffle before you can destroy other humans in their own battle exo-skeletons.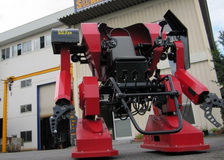 And then there's
My First Bronze Casting
.
So How Long Have Blondes Been Ditzy And Dumb?
Answer: Since 1868. But the idea was probably around somewhat before then.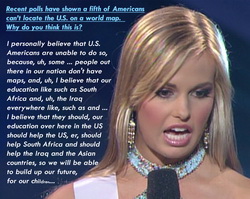 World's Largest Breasted Woman Gets Boob Reduction
Sadly blog guidelines prevent me from including an image here.
Tonight's post brought to you by hand signals: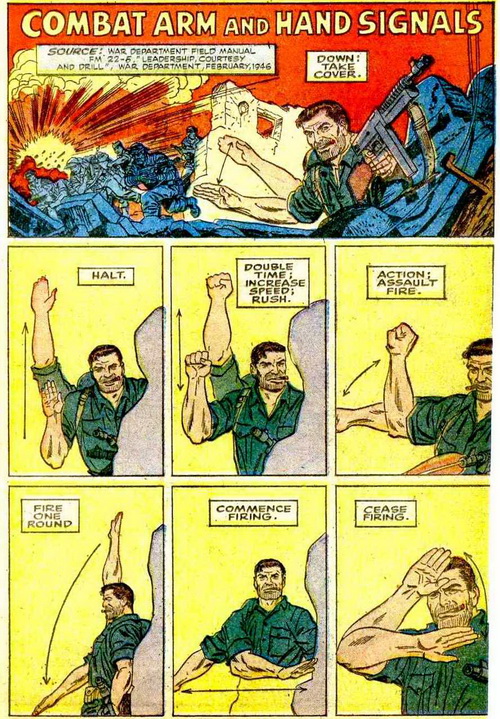 Notice: Posted by permission of AceCorp LLC. Please e-mail overnight open thread tips to maetenloch at gmail. Otherwise send tips to Ace.

posted by Maetenloch at
09:49 PM
|
Access Comments