« Barack Obama's Likely Ghostwriter Bill Ayers Denied Emeritus Status; Robert Kennedy's Son Speaks Out, Saying He Cannot Abide Such An Honor Being Conferred On a Man Who Dedicated Book To His Father's Killer
|
Main
|
NYT: Checkmate, Wingnuts; Left-Wing Sources Are Claiming John ("Who?") Boehner Might Be Diddling Some Woman So Now There's No Way You Can Go Ahead With Your Revolution »
September 24, 2010
Dick Morris: Nine Pickups In NYS Alone?
I think CAC was more reserved with his prediction about a possible +8 in the Empire State.
But you know Dick Morris. He's swinging for the fences in his semi-predicitons.
On the House side, New York's role is no less crucial. The National Republican Congressional Committee, the body charged with running the GOP House campaign, lists seven New York seats as among the hundred it considers to be in play -- tied with Pennsylvania for the national lead.

The key races:

* Suffolk, where Randy Altschuler has a good chance to defeat Rep. Tim Bishop.

* In Westchester/Putnam, Dr. Nan Hayworth trails Rep. John Hall by only 44-42, according to a Sept. 12 poll by Public Policy Polling.

* Hudson Valley, where challenger Chris Gibson trails Rep. Scott Murphy by only 45-40, according to an Aug. 1 poll by the American Action Forum.

* In Plattsburgh/Watertown/the North Country, Republican Matt Doheny looks likely to succeed, assuming the Conservative Party nominee (who lost the GOP primary) doesn't split the vote.

* Central New York, including the Finger Lakes, Utica and Rome, where incumbent Mike Arcuri trails challenger Richard Hanna by 50-37 in a poll by the Democratic Benenson Strategy Group on Aug. 31.

* Syracuse, where Democratic incumbent Dan Maffei nurses a narrow 44-41 lead over Republican Ann Marie Buerkle, according to an Aug. 1 poll by the American Action Forum

* The Southern Tier (Olean, Hornell, Corning, Elmira and Canandaigua counties), the district of ex-Rep. Eric Massa, a Democrat who resigned amid scandal and charges that he was being marginalized by the House leadership for opposing ObamaCare. Republican Tom Reed leads Democrat Mathew Zeller by 44-30.

Add to that list possible GOP pickups by John Gomez against Democratic Rep. Steve Israel in Suffolk and George Phillips vs. Rep. Maurice Hinchey in the Newburgh/ Poughkeepsie/Binghamton district, and Republicans have nine possible House pickups in New York.

One note: That Plattsburgh race? Doug Hoffman is remaining in the race as a third-party spoiler with a good ballot line (the Conservative Party line).
I think that race is probably going to be lost. It's a fairly evenly-divided district, not the sort of place where you can lose 10-15% (or more) of your best-case vote share and win.
He's gone from hero to douchebag. He stood for election in a fair primary and lost; now he's playing sore loser, same as Liana Mulcahey and Charlie Crist and maybe even Mike Castle.
There are douchebags all over.
Below, CAC's "Best Case Scenario" map for the Northeast. Dark red, I think, represents solidly R districts; bright red are potential pickups (I think his guide is places where the R has a 20% or greater chance of winning.)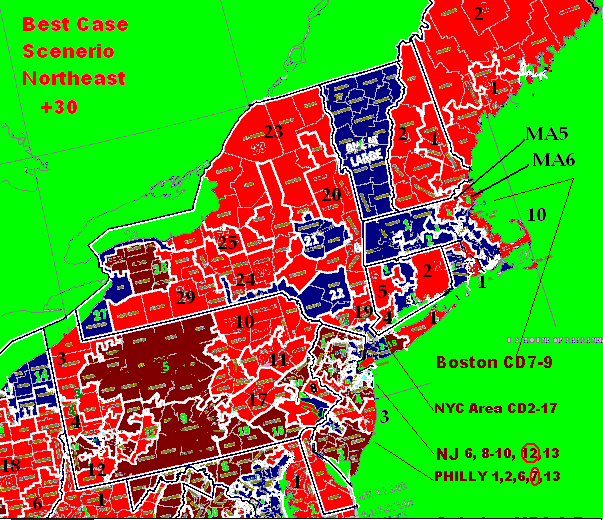 So bloody, like good marbled steak.
And speaking of bloody. Check out this astonishing cross-tab.
The generic ballot shows Republicans leading 44%-39%. Besides all of the usual regional crosstabs, we also broke it out by the type of district. We looked at the sample in the 66 Democratic INCUMBENT districts that Charlie Cook lists as either toss-up or leaning Democratic at the time of the survey. In that key crosstab of Swing Democratic Incumbent Seats, the Republican lead grows to 49%-31% on the generic ballot. That is a very powerful crosstab that says the wave is coming.
So we're ahead generally, nationally, but where it counts, in key swing district pickup opportunities, we're ahead by close to 20 points.

BTW, CAC's made up a series of these maps around the country which I'll get to putting up. They are so pretty.


posted by Ace at
04:07 PM
|
Access Comments