« Lisa Mancuso Trailing by Double Digits in Alaska Senate Race, Yukon Gold Chili Cookoff, and NFL Moron Picks Week 2
|
Main
|
Obama: "Mexicans Were Here Before America "Was Even An Idea" »
September 21, 2010
Ace: This Poll Showing Another Long-Term Incumbent Democrat In Deep Trouble Makes Me Want To Call Sean Duffy
Sean Duffy: ...
Ace: Sean? Sean? Sean?!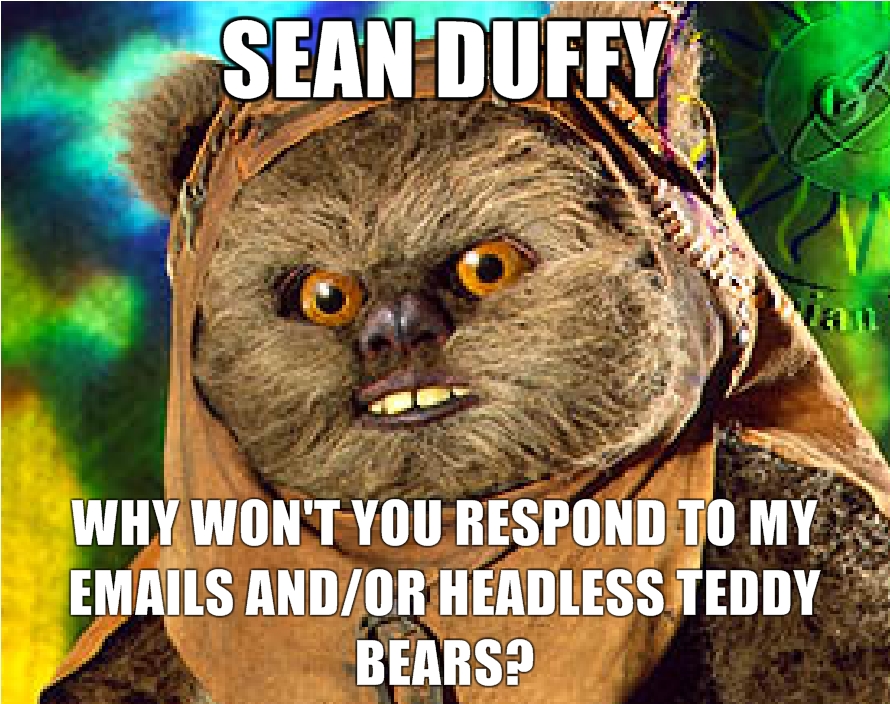 Muri within striking distance of "safe" incumbent Adam Smith.
Just one month ago, Washington State Congressman Adam Smith was sitting comfortably, winning the August primary by 25 points. But a new KING 5 poll finds the race may be closer than the primary suggested, with Smith's Republican challenger just three points behind.

Stretching from Renton to Tacoma to Olympia, the 9th district has been represented by Smith for 14 years. In the August primary, the Democrat got 51%. But in that election, Republicans split their vote between two candidates and now, it appears the Republican vote has united behind Dick Muri, a former Air Force officer and Pierce County Councilmember.
Air Force officer? Well now we're talkin'.
Get ready for a pitch I think you'll like:
Stationed at McChord AFB, I married the love of my life Mary, settled down in my adopted hometown of Steilacoom and raised four children who are now married and having our grandchildren.

Future generations will not have the same quality of life we enjoy if the out-of-control spending by the incumbents is not stopped. This generational theft threatens the economic vitality and future of our country. Our government has taxed, borrowed, and spent an exorbitant amount of your money. Every American owes over $40,000 on behalf of the government. Record deficits and lack of smart oversight have mangled the job market and hurt small business growth.

The incumbent speaks like a moderate, but his voting record essentially follows Nancy Pelosi and the liberal congress. With so-called "Obamacare", the failed stimulus package, special interest earmarks, corporate bailouts, cap and trade (an enormous domestic energy tax increase), and increased foreign aid, the incumbent has ballooned our debt and reliance on foreign countries.

My votes will support federal priorities of ensuring a good business climate for job creation, supporting military families and veterans, giving control of educational priorities to local school boards, promoting energy independence, preserving our beautiful environment, and protecting our borders from illegal aliens.

Emphases in original. Donation, volunteer stuff, etc. at the above link.
Thanks to kam, who just donated.

posted by Ace at
06:18 PM
|
Access Comments