« Joe Miller Reacts To Liza "The Sore Loser" Murcowski's Pathetic Attempt To Keep The Job Her Daddy Gave Her
|
Main
|
As Predicted: Health Insurance Becomes More Expensive Under ObamaCare »
September 18, 2010
College Football Saturday Oh Yeah
There's a crisp feeling in the September air. Where you are that might be coolness. Where I am it's dead tree limbs falling from heat stressed trees.
Still. It's College Football time.
No ranked head to head action in the second week, but a few games that look good: Arkansas (12) and Georgia at noon (all times EDT), Gators (10) at Tennessee, OU (cocksuckers) against the Zoomies at 3:30, a classic Auburn (16) vs. Clemson at 7pm, and the Longhorns (6) at Texas Tech at 8pm.
Don't forget your moron NFL picks for Sunday. Enjoy your weekend. Stay out of jail.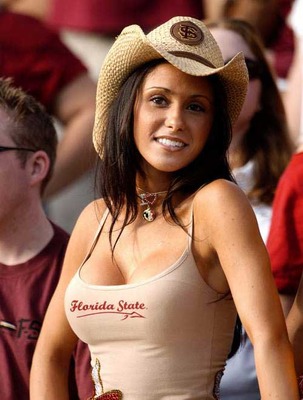 Nice hat.
Added:
(genghis)
Bevo, mascot of the Texas Longhorns

posted by Dave In Texas at
02:36 AM
|
Access Comments