« Los Angeles Has Received $111 Million in Spendulus Funds; Only 54 And a Half Jobs Have Been "Saved or Created"
|
Main
|
T. Coddington Van Vorhees VII on the Tea Party: If It Is A Fight These Jacobins Wish To Have, Then It Is A Fight They Shall Have »
September 16, 2010
Overnight Open Thread
Happy Thursday all. Or is it?
Does Affluence Make You Happy?
Well this chart suggests that in the large it does.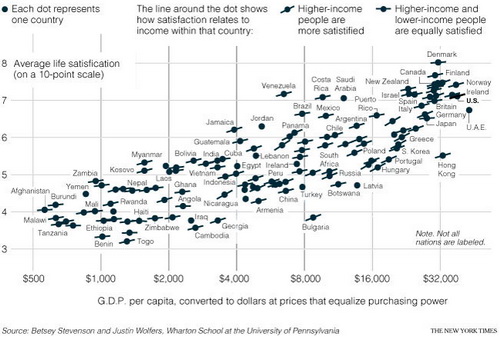 And looking at the trend lines for each country it looks like the more affluent a country is, the bigger the difference between the happiness of the wealthy versus the poor. So absolute affluence makes you happy, but being richer than your neighbors makes you happier still. Which I guess is only surprising to those unfamiliar with the not-so-nice parts of human nature.
Why I bet you could develop two competing economic ideologies just based off working both ends of this happiness differential.
So if affluence brings happiness, how much affluence do you need?
Answer: at least $75,000 a year.

The study found that people's evaluations of their lives improved steadily with annual income. But the quality of their everyday experiences -- their feelings -- did not improve above an income of $75,000 a year. As income decreased from $75,000, people reported decreasing happiness and increasing sadness, as well as stress. The study found that being divorced, being sick and other painful experiences have worse effects on a poor person than on a wealthier one.
So generally the more money you make, the happier you are - up to around $75K/year where it plateaus.
As a kid I remember the car or TV breaking down or my mom needing a crown being BIG deals - not just for the aggravation factor, but these also put a real crimp in our financial situation and meant no eating out for a long time. Now at $75K you're hardly rich but then having to fix the car's transmission or get a crown doesn't push you into financial crisis either.
Interestingly people who win the lottery have elevated happiness for a year or two but by year three they're basically back to where they were happiness-wise. By comparison unlimited heroin and the power to destroy people are both good through at least year five.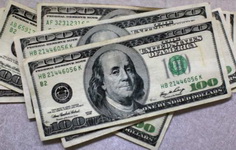 Steve Jobs Tries To Smuggle Shurikens Onto a Plane In Japan
It was his private jet but because it shared a terminal with commercial flights he still had to go through security. And the airport security guards made him throw away the ninja throwing stars in his carry on bags. Supposedly he swore that after this he would never enter Japan again but Apple strenuously denies he said this.
I can personally attest that the Japanese paranoia about stabby things is nothing new. Back in the early 90's I happened to be flying within Japan and just happened to have a mini Swiss Army knife in my carry on bags that I had been flying with for years. Well they saw it on the x-ray and flipped out. I was suddenly surrounded by super-serious Japanese security guards with white gloves and cordoned off. After angry glares and much confusion on my part they finally explained that I was carrying 'CONTRABAND!'. And after 30 minutes and a stern lecture I was finally allowed to check the knife and my bag and get on the now delayed flight full of angry passengers. Not so good times.
And of course no incident is complete without the matching Taiwanese animation:

The Ultimate Dance Moves For Men
Okay this is kinda old by now but it had to be covered. Scientists in Canada claim to have discovered the dance moves most likely to attract women. So watch and learn.
And note that the Sprockets dance did quite poorly. Personally I've always found my style, The Wounded Cow, to be a good trade-off between effectiveness and loss of dignity.

Do You Have To Explain To The Feds Why You Traveled Abroad?
No, but based on this guy's experience they will do everything they can to hassle you before admitting it.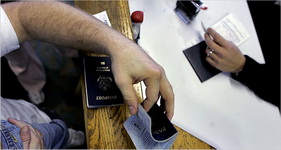 The Real Stuff White People Like
Based on analyzing the profiles of 500,000 OK Cupid users. It turns out that white people like sushi, asian people like sashimi, black people like soul food, and latin people apparently like Spanish words. And then they do a whole lot of juicy analysis that could probably result in a couple dissertations. But remember like every Sociology professor lectures - stereotypes have absolutely no basis in reality and are merely constructs to perpetuate fear of the Other and the patrimony patriarchy.
Who knew OK Cupid were part of the patriarchy? I didn't and somehow that makes me want to sign up now.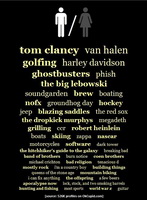 11 Ridiculous Mustaches Every Guy Should Sport At Least Once In His Life
Maybe I just got imprinted early on but I still think the Tom Selleck looks good. And while you're shaving off your unemployment beard is also a good time to check the Hitler stache off your list.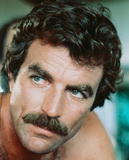 Yahoo group. That is all.
Tonight's post brought to you by the cycle of flossing: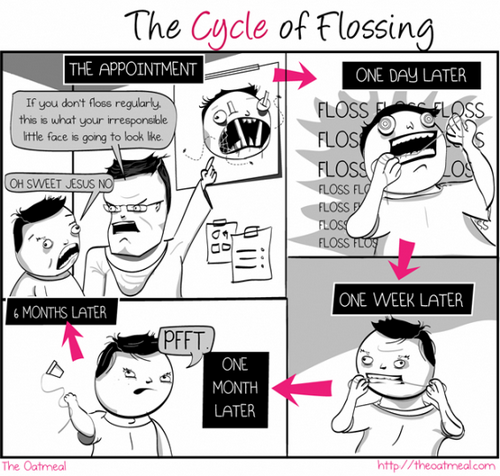 Yesterday was panel 1 for me.
Notice: Posted by permission of AceCorp LLC. Please e-mail overnight open thread tips to maetenloch at gmail. Otherwise send tips to Ace.

posted by Maetenloch at
09:35 PM
|
Access Comments