« AoSHQ Completely-Made-Up Decision Desk: O'Donnell Wins
Ayotte Down Big in Manchester, NH
|
Main
|
Five Reasons O'Donnell Could Win »
September 14, 2010
Overnight Open Thread
Good evening all M&Ms. Let the airing of grievances begin.
Army Soldiers Rebuild A Jeep In Under 4 Minutes
In this case Canadian army soldiers from the 3 Area Support Group (3ASG) Technical Services Division stationed at CFB Gagetown. Here they rebuild a Willys MB US Army Jeep during a local parade in Halifax. They're fast but not particularly hurried so I'm guessing they could easily shave 30 seconds off their time if they really tried. And just further proof of how simple yet robust the Willys Jeep was.
New Canadian Army motto: Never leave a bolt behind.
(thanks to Russ)
Did Sen. Mike Castle Vote To Impeach Bush?
Well that's what O'Donnell supporters Mark Levin and Dan Riehl have been claiming but it's just not so. And I think I would have remembered a Bush impeachment trial even allowing for all the H I was doing back then.
Castle did vote in 2008 to send Dennis Kucinich's impeachment bill to the judiciary committee along with Republicans Peter King, Kevin Brady, Ralph Hall, and others. As they stated at the time this was just a way to send the bill to committee limbo where it would quietly die.

There you have it. Mike Castle never voted to impeach President Bush; no such vote ever occurred on the floor of the House. He did vote to commit goofball Congressman Dennis Kucinich's impeachment resolution to the Judiciary Committee, where it died, as intended, a slow death. And Castle's office said that it opposed impeachment because "they believed there weren't any crimes committed by the Bush administration."
Okay I get that some conservatives really, really,
really
hate Castle but if he's such a horrible RINO why do they feel compelled to make up shit about him? The truth ought to be enough. The DE primary just can't end quickly enough.
California To Teach Algebra to 8th Graders Using iPads
Well currently it's just a pilot program but they hope to make it state-wise in a a few years even though they're bankrupt. This is one of those ideas that sounds great but is worthless and asinine in practice. When I was a kid everybody believed that television and later videotapes would revolutionize teaching especially hard subjects like math. Well it didn't - math scores actually went down.
Later when I was a math teacher myself, I was told that computers and the internet were going to change the way students learned math. Well guess what - they didn't and scores remained unchanged. So based on past performance I'm predicting that CA will spend $400+ per student to give them all ipads and that math scores won't change a bit. But at least they'll master Facebook and Pron skills a little sooner.

Top 10 Terrifying Questions in Movies
Yep all of these are bad news if you're a movie character.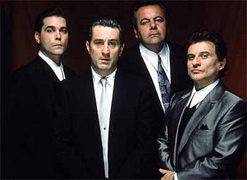 "What do you mean I'm funny?"
Skeletal Cupcakes!
Nom, nom, nom, nom...braaiiins! For your little zombie-wannabe.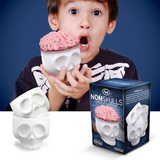 Also check out
these kick-ass cookies
.
10 Funny Rejection Letters
The MAD magazine and Marines rejection letters are so well done that they actually make you want to join even more. The others are funny and sometimes deservedly cruel. I've heard horror stories about editors' manuscript rejection letters, but also stories from editors about how irrational some authors are about any criticism - even constructive. Sometimes it ends up being kinder to be brutally honest than to give pleasant, false hope. Oh and FYI there is no law school at AoSHQ U.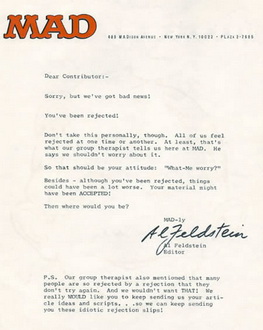 10 Of the Best Prank Videos Ever
Well actually more like 10 moderately entertaining prank videos.

Are Children Today Really Going Through Puberty Earlier?
Probably not - we're just paying more attention and noticing the very early stages of puberty. Objective measures like menarche - the age of a girl's first period - and other hormone tests have remained unchanged for the last 40 years. So early puberty seems to be just an artifact of increased observation. Call it the pedobear effect.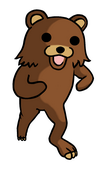 And apparently the San Luis Obispo CA Sheriff's Department
doesn't get that pedobear is an internet joke
.
The Yahoo AoSHQ group. You know the way.
Tonight's post brought to you by Teen Beat 1.0:

Notice: Posted by permission of AceCorp LLC. Please e-mail overnight open thread tips to maetenloch at gmail. Otherwise send tips to Ace.

posted by Maetenloch at
09:12 PM
|
Access Comments