ę Taiwan Virtual News: WSJ vs. NYT
|
Main
|
Remembering 9/11 Ľ
September 10, 2010
Release the Overnight Open Thread!!!
WORLD EXCLUSIVE! SHOCKING PHOTOS OF ACE AT BLOGCON!!!
(below the fold)
The Vortex Cannon:
We donít know what it is, but we wants it:
10 Things You Didnít Know About Hugh Hefner:
Oooh! And more breaking news! The soothing sounds of Ace. Live n' stuff!
Just got this from Little Miss Attila, a barbarian woman of true stature if there ever was one.
"For both of you who haven't heard, the RightNetwork site is now live. Participants include Victor Davis Hanson, Kelsey Grammer, Thomas Sowell, James Lileks, Robin of Berkeley, Iowahawk, Ace of Spades, Cynthia Yockey, Benjamin Franklin, Ed Snider, and Patrick Henry."

"Oh, and Gerard Van der Leun as Editor-in-Chief, and one Joy McCann as Senior Editor."
The S.O.B. Responsible for Laugh Tracks:
I wonder if thereís a laugh track in Hell, where he now resides?
The Secrets Behind Your Favorite Toys
This is in response to Maetís Thursday night ONT where he waxed nostalgiac about old-timey toys, as if they were all innocent and stuff, rather than creepy and bizarre. Well, Maet can just go on living in Fluffyland (which I believe is a small, quaint and picturesque coastal village south of Big Sur which has a delightfully moderate climate perfectly suited for itís renowned Skittle vineyards.) Lucky bastard.
But Iím here to tell you the cold hard drunken truth, as incoherent and belligerent as it is.
Now as promised: Your Dear Leader: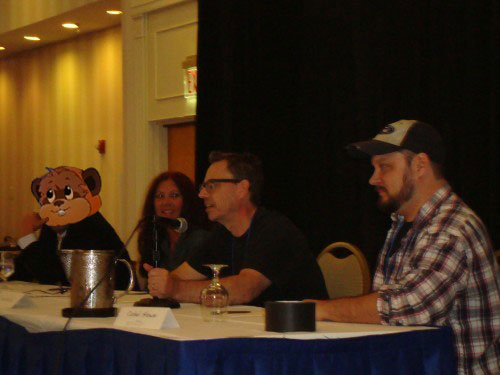 Added note/update: The pic was swiped from a very well-known site, but I'm gonna' let the Chipmunk-In-Chief decide how to attribute credit for it. Which I'm sure he'll do right after hosing out the woodchipper, cleaning my blood off his hands and having a well-deserved snifter of brandy. Meanwhile, you'll just have to guess where it's from.
Courtesy of SluShop Ltd., all rights reserved
Notice: Posted by permission of AceCorp LLC. Please e-mail overnight open thread tips to xgenghisx@gmail.com. Otherwise send tips to Ace.

posted by Genghis at
10:24 PM
|
Access Comments