« Football!
|
Main
|
Court: "Don't Ask, Don't Tell" is Unconstitutional »
September 09, 2010
Overnight Open Thread
Happy Thursday M&Ms.
The Most Underrated and Overrated Women
As compiled by several women on the right over at Dan Collin's place. Personally I would add Jennifer Garner to the Overrated list and take Christina Hendricks off the Underrated list - she's probably rated about right or borderline overrated.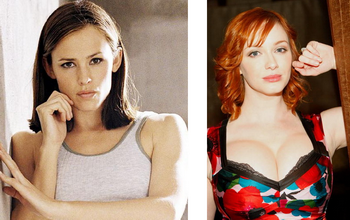 Overrated
Jessica Biel
Kim Kardashian (any Kardashian)
Megan Fox
Giada de Laurentiis
Sandra Lee
Penelope Cruz
Scarlett Johansson
Natalie Portman
Julia Roberts
Uma Thurman
Reese Witherspoon
Kirsten Dunst
Underrated
Angie Harmon
Carrie Underwood
Catherine Zeta Jones
Christina Hendricks
Heidi Klum
Jada Pinkett Smith
Padma Lakshmi
Rachel McAdams
Rachel Weisz
Sandra Bullock
Vanessa Williams
Shirley Manson
Are Your Pants Lying to You?
Probably. Esquire did a survey of mens 36 waist jeans from different brands and found a huge variance. Old Navy was the biggest offender with 36 inch jeans actually being 41 inches around. Sure it flatters guys who are a little huskier than they'd like to admit but it also makes finding a pair of jeans that fit harder than it has to be.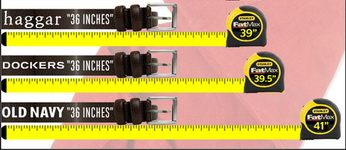 Mr. Hay Bale
Could be fake. Doesn't look like much fun but maybe it gets real boring on the farm.

Remembering Vintage Toys
Some of these were before my time but I definitely remember playing with Erector Sets and Girder and Panels as a kid. And how could they leave out Lincoln Logs?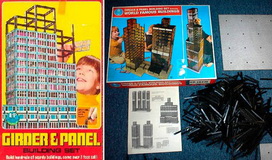 10 Photos of Spontaneous Badassery
Such as this guy carrying a shield and rocket launcher and looking good.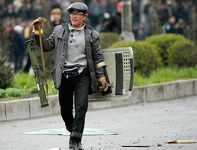 Propaganda Posters of World War Two
Some you've seen before and some you probably haven't. This one is a German anti-American poster from 1944. Note that it has pretty much the same tropes about how horrible Americans are that you still find in Der Spiegel today.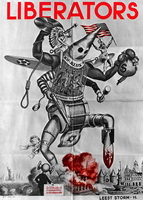 L. Frank Baum: The Man Behind OZ
He was kind of a flake until he found his true calling at age 44 - telling children's stories that weren't dark and lecturing.

Once upon a time, fairy tales were dark fables designed to scare children into good behavior. This is the story of one American author who thought kids deserved better.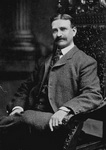 Philly Police Now Confiscating Legal Guns
Apparently Florida CCW permits are valid in PA yet Philly police are detaining security guards for up to 18 hours and confiscating their guns despite the fact that they're carrying legally with FL permits. The police commissioner doesn't see any problem with this:

Lieutenant Fran Healy, special adviser to the police commissioner, told the newspaper that the police "err on the side of caution" in confiscating weapons and arresting people who are duly licensed.
From Lieutenant Fran Healy: "Officers' safety comes first, and not infringing on people's rights comes second."
I'm betting the courts will disagree.
Husband Arrested For Beating His Wife Claims That He Was Only Doing A Traditional Turkish Dance
That right officer - I'm uh, just dancing with this hobo. Nothing bad is going on - just good ole late night alley dancin'. And uh, the gutting blade - that's just part of the costume.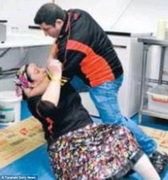 Yahoo group. That is all.
Tonight's post brought to you by the convergence of recent memes: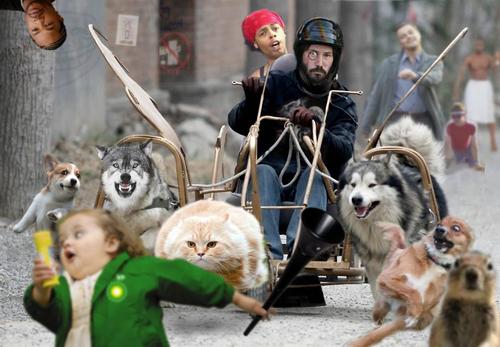 Notice: Posted by permission of AceCorp LLC. Please e-mail overnight open thread tips to maetenloch at gmail. Otherwise send tips to Ace.

posted by Maetenloch at
09:29 PM
|
Access Comments