« Headline: "Butts Arrested In Boob Murder Case"
|
Main
|
Mayor/King For Life Richard Daley Not Seeking Reelection »
September 07, 2010
Computer Simulations Predict 51 Seat GOP Gain
At Hot Air's headlines, political scientists run 1000 simulated contests and find a 51 seat gain to be the most likely scenario. (Or, I guess, that's average of the scenarios, I guess an under-over.)
The below chart shows how many seats the Democrats are expected to win, and the peaks for each interval indicate the frequency that particular seat-count comes up. The red/blue is not about how many seats each wins; it just indicates that if Democrats win under 218 seats, as the case for most of the graph, then the House will be under Republican control.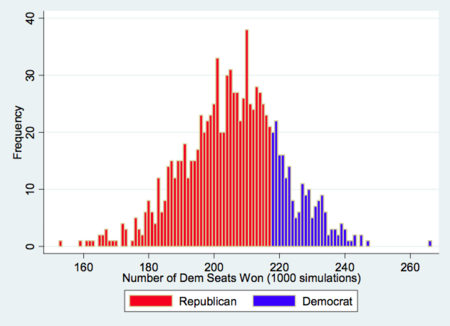 Credit: Bafumi & Erickson
They cite one successful prediction...
Two weeks before Election Day in 2006, we posted a prediction that the Democrats would gain 32 seats and recapture the House majority.
But that's not a long track record, and I note they don't themselves call out their 2008 prediction. I assume that one was off.
In their chart, there is a genuine possibility of the Democrats only winning around 185 seats. The Democrats hold 256 seats now (including one open seat formerly controlled by them), so... well there seems to be a genuine possibility, on the high end of course, of a 71 seat gain. And I don't even believe that's the ceiling, either.
In more poll news:
Rasmussen: GOP holds 12 point advantage with likely voters. This matches the biggest GOP lead, ever, as found by Rasmussen.
Rasmussen: Fiorina takes (insignificant) lead over Boxer, 48-47. I still go by the rule tied is ahead, even on Rasumussen.
In this video, political reporters tell Scarborough that Feingold is in real trouble in Wisconsin.

posted by Ace at
02:07 PM
|
Access Comments