« Open Blog
|
Main
|
Blago To Democratic Jurors: Don't Convict Me Or I'll Bring Down Obama »
August 22, 2010
Tranny Travels the Terminals [dri]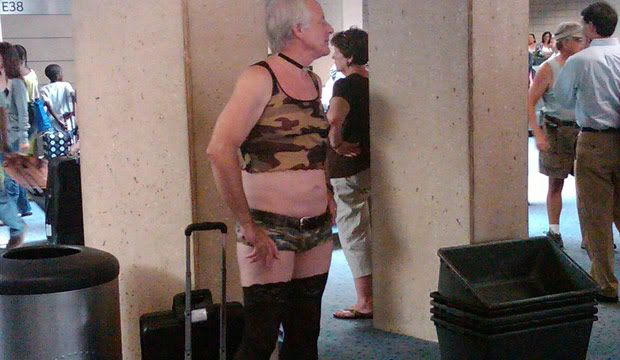 DFW Airport
A few weeks back I was in the US Airways terminal at Charlotte Douglass Airport when I saw 70 year old man walk by dressed in black hot pants, a red corset with matching half shirt, and black stockings. Needless to say, his presence caused quite a stir among the other travelers in the terminal.
My first reaction was that this guy had lost a wager and was paying off his debt. His motions and attitude though were not those of an embarrassed bet loser who wanted the whole event over as fast as possible. No, this gentleman was taking his sweet time walking through the terminal. He stopped and posed for pictures. He chatted up the small crowd that had formed around him. He showed no signs of embarrassment whatsoever. Clearly he was enjoying himself.
I approached him and asked him if he had lost a bet. He responded cheerfully: "No, I won the bet. You should see the other guy." He left shortly thereafter and the terminal was abuzz with chatter regarding this oddly dressed individual.
Over the weekend I happened upon an article on the CNN website titled "What's OK to Wear on a Plane?" The story featured a photo of an elderly man at DFW airport dressed in camouflaged hot pants with matching half shirt, stockings, and a black neck choker. Clearly this was the same man I saw weeks earlier.
The CNN story was picked up by FARK.com where several commentators wrote that they had seen this man at airports as varied as Las Vegas and London! It was obvious that dressing up in women's clothing and parading around a public airport was not a one time event for this man. It was evident that he did this on a regular basis.
My curiosity has been piqued. Who is this guy? Is he doing this stunt for his own deviant pleasure or is this the start of some guerrilla marketing campaign? Is he researching a book on his unique travels? Inquiring minds want to know!
Please feel free to muse in the comments section. More photos after the break.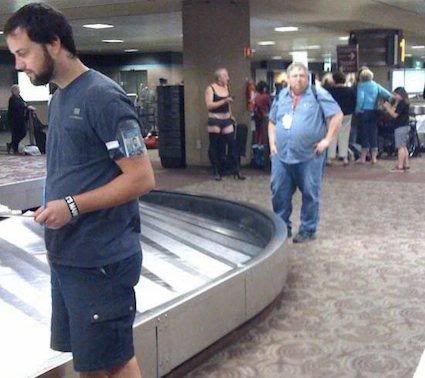 McCarran Las Vegas Airport
UPDATE: More photos!
Thanks Gman!

posted by Open Blogger at
02:07 PM
|
Access Comments