« Top Headline Comments 8-12-10
|
Main
|
Best Article on the Ground Zero Victory Mosque and Murderous Islam You'll Read »
August 12, 2010
Honey, Does This 'Recovery' Make My Unemployment Claims Look Flat?
The Department of Labor released the weekly unemployment claims report. Not only did they revise last week's awful report up (from 479K to 482K), but this week's report is even worse. 484,000 people filed initial unemployment claims last week [click to embiggen]: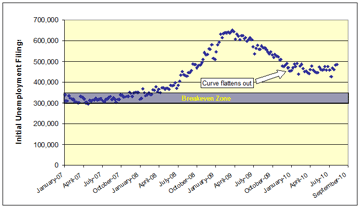 1st Prize: A Recovery Summer!! 2nd Prize: 2 Recovery Summers!!
UPDATE: Morrissey notes that the prediction was for 465K, and only has to look as far as Reuters to find that 484K was 'unexpected.'
[A leetle more technical discussion below the fold. There is math in this post.]
Since I started breaking up the initial claims data into pre- and post-November 2009, the slope of the post-Nov data has flattened and flattened and flattened. It started around -120 claims per day, but has now dropped to...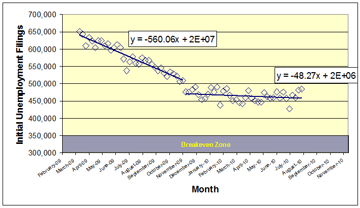 Yeah, -48/day (the number next to the "x" in the formulas in the boxes is change in claims per day). We were getting well to the tune of -560 claims per day in the Mar09-Nov09 timeframe. Now we're healing at less than a tenth of that rate.
At this rate (-48/day), getting to 400K claims per week will take us 4 1/2 years.
Maybe we should be talking about a "Recovery Decade."

posted by Geoff at
09:32 AM
|
Access Comments