« Hide Your Kids, Hide Your Wife
|
Main
|
Raul Castro, Secret Chris Christie Fanboy? »
August 01, 2010
Overnight Open Thread
Okay I'm going to be out most of the day and evening and I've got a ton of videos built up so that all equals Video Sunday.
The Mystery of the Racist 'Tea Party' Comics
A long running narrative on the left has been that the Tea Party is filled with racists. It just has to be true despite the lack of any evidence of this. So recently lefty blogs have been a flutter over recently found racist 'Tea Party' comics. Supposedly they were discovered by comic book blogger Ethan Persoff who bought a few copies somewhere in Corpus Christi, TX and put scans up on his website. As you can see below they're done in black an white and mock Obama using recreations of famous comic book covers. But so far the only link to the Tea Party movement is just the title, 'Tea Party Comix' - Tea Party leaders disavow any knowledge of them and no one seems to know who the author was or if they were widely distributed.
Having looked through them it's clear that whoever did them was quite familiar with well known vintage comic book covers and their drawing is fairly good. But my impression is that the overall tone is slightly off - it reads more like an outsider's view of how Tea Partiers are supposed to think rather than their actual viewpoints and it has the look and feel of something from an alternative weekly rather than a Tea Party handout. Plus there's a decided lack of humor and cleverness. So barring further evidence I see this as being most likely a plant by an anti-tea Party leftist. But with just enough over the top irony that if caught, they can claim that they were really just spoofing Tea Partiers.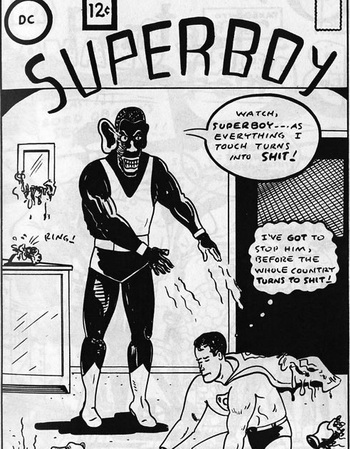 Russian Hostage Rescue Demo?
I wonder how they choose the guy who has to carry the boom-stick. Thanks to Doug.

The Most Badass Indian Music Video Ever
It'd be faster to list what's not in this video.

How Bout Some Late 60's Fashion
Mit groovy muzik.

The Bed Intruder
So an intruder snuck into his sister's bed at night and Antoine Dodson of Huntsville, AL is having none of it.

And here's Antoine
reflecting on his internet fame
.
Cute Puppehs!
I wonder what this super-cute Jack Russel puppeh is dreaming about.

Why You Shouldn't Unclog Your Drain

WTF?
Dogs for Jesus?

Ron Livingston Does Keyboard Cat
And here's the original Keyboard Cat.

Creepiest Ice Cream truck Ever
Collecting souls in return for ice cream treats.

Weekly AoSHQ Commenter Standings
Top 10 commenters:
1 [591 comments] 'curious' [82.92 posts/day]
2 [410 comments] 'Kratos (Ghost of Sparta)'
3 [400 comments] 'Bikermailman'
4 [356 comments] 'Vic'
5 [313 comments] 'The War Between the Undead States'
6 [310 comments] 'Ben'
7 [303 comments] 'sven10077'
8 [293 comments] 'rdbrewer'
9 [291 comments] 'CDR M'
10 [287 comments] 'Herr Morgenholz'
Top 10 sockpuppeteers:
1 [72 names] 'Mallamutt' [10.10 unique names/day]
2 [60 names] 'conscious, but incoherent'
3 [60 names] 'Wyatt Earp'
4 [57 names] 'Cicero'
5 [42 names] 'MrCaniac'
6 [40 names] '18-1'
7 [38 names] 'Rangel/Greene 2012'
8 [34 names] 'Alberta Oil Sands'
9 [32 names] 'Fish'
10 [31 names] 'Wodeshed'
The group. Yeah.
Tonight's post brought to you by elevator tricks:

Notice: Posted by permission of AceCorp LLC. Please e-mail overnight open thread tips to maetenloch at gmail. Otherwise send tips to Ace.

posted by Maetenloch at
09:17 PM
|
Access Comments