« "A Deep Cess-Pool of Creativity:" AoSHQ Movie Club
|
Main
|
Yeah, So Here's the Guy Eric Holder Decided To Spring Free: Let's Give It Up for Osama Bin Ladin! »
July 10, 2010
Keith Olbermann Beclowns Himself (More Than Usual)
My description of him as a "shameless, dishonest, hack" still fits (as if there was any doubt).
Thursday, Keith went after Sharon Angle for comparing herself to Abe Lincoln. She said Lincoln lost 'quite a few elections' but won the "one that mattered for the country". Olbermann then 'corrected' Angle by saying Lincoln only lost 1 election. He specifically used the word "election" twice.
Last night he changed it to "popular election" when it came to Lincoln's two bids for the US Senate.
As the American Spectator, who did the original legwork on this, notes, Lincoln himself knew he lost the 1854 Senate election. Lincoln wrote,
"I regret my defeat moderately, but I am not nervous about it."
Perhaps Keith would like to have a word with Mr. Lincoln about this inaccurate description of what happened.
Olby claims the 1858 Senate race doesn't count because "neither Stephen Douglas, nor Lincoln appeared" on the ballot.
Okey dokey Keith. Let's see how that theory holds up.
An article in the September 2008 issue of the Smithsonian on Lincoln by author Fergus Bordewich includes this line:
But while Lincoln may have won the debates, he lost the election.
"Lost the election"? Sir, have you no decency?
Or this from the Illinois state commission on the Lincoln Bicentenary Commission.
Douglas won the election, but the contest raised the profile of the tall prairie lawyer.
So, if Douglas "won the election" I think we can safely infer that Lincoln lost it.
As for Lincoln's failure to get nominations, of course they count. If they don't count, then Sharon Angle has apparently never lost an election. She was in the State Assembly for 6 years before leaving to run for the Republican nomination for a House seat but lost.
As Daniel Foster noted at NRO (and major congratulations for the Worst Person in the World win), if only direct elections count, then no one has ever been elected President of the United States, since people only vote for electors not individual candidates.
Funny but Olby gives Lincoln credit for winning the Presidency in 1860 and 1864 even though it wasn't a "popular election".
In short, it's nothing we didn't already know, Olby is a buffoon.
Of course all these pointless super tight fact-checking efforts by Olbermann miss the larger issue...Angle was making a simple point, sometimes we don't always get what we want, it's how we deal with setbacks that matters. Do you stay down or get back up and get on with life?
A small minded lout like Olbermann is forever missing the bigger point in the hopes that he can appear to be smarter than he is by latching on to some perceived misstatement. Usually they wind up doing exactly what Olby did here...confirming their status as a weak minded public joke.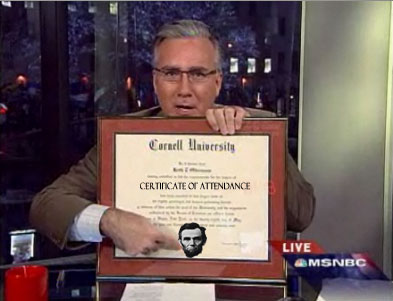 Professor Bathtub Says......
Thanks to Slublog.
If you want to see what stupidity looks like, watch the video below and behold the wonder that is the dishonest, shameless, hack that is Keith Olbermann.
Visit msnbc.com for breaking news, world news, and news about the economy
As if any more demonstration of Olbermann's hackery is necessary, enjoy this from the Daily Caller.

posted by DrewM. at
02:16 PM
|
Access Comments