« I Can Haz Idiocracy?
|
Main
|
Friday Financial Briefing »
June 24, 2010
Overnight Open Thread
Happy Thursday all.
So here's a time lapse video of a spider crab shedding its shell. The good part happens around the 0:50 mark. It's new shell will harden over the next 24 hours. And as one commenter noted doesn't this mean it's kosher for a day? Anyway this video makes me hungry for seafood and want to go watch some more Deadliest Catch on Tivo.

So What Happened To Working Teens
In the last 20 years the percentage of teenagers with part-time jobs has declined by almost half. How come? Well TigerHawk speculates that it's due to college admission officers demanding more and more volunteer and internship activities which leaves little time for the typical teenager part-time job. And parents seem to put much more value these days on their kids doing the 'right' extracurricular activies. Plus given the increases in the minimum wage and amount of illegal workers, I suspect that there just aren't as many places willing to hire a kid part-time anymore.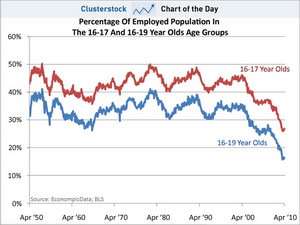 Also
Why Everyone Should Have A Retail Job At Least Once
. Yup. Everyone ought to work in food service or some menial retail job at some point in their lives. For most kids this is often the first time that they're actually held accountable for their performance. And even if it sucks, at least it makes you appreciate every job after that.
Anatomy of a Soccer Scold
So last week writer Dave Zirin complained that Americans should love soccer but don't because they're racists. But now that the US has won its World Cup group and Americans are actually watching, he now complains that this is bad because it promotes ugly American cultural hegemony. So there you go - for non-urban-liberal Americans there's just no escaping your racist cultural imperialist nature. Oh and of course he doesn't support the American team - he's for Argentina because supporting your own country is so gauche.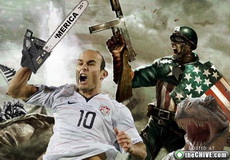 SATs Are Racist!! Or Are They?
Groups have been claiming this since the 70's and so now there's a new report out that claims the SAT is biased against minorities, particularly African-Americans, because it uses certain words that minorities don't know. Except that when Big Journalism looked into it it turned out to be nonsense. The entire report was based on four SAT tests from the 90's taken by students going to UC universities. They compared how students scored on the same exact questions and found that on a single 1999 test there were 2 questions that minorities did worse on. However the same questions were used on another 1999 test and there were no minority differences at all on that one. Which means the whole thing was almost certainly a statistical quirk rather than a racial bias.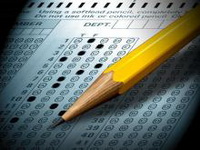 The Ultimate Lunch Box Collection
Dan Zieja has 3000 kids lunch boxes in his collection and is stopping since he says there's only 8 left that he doesn't own. And you can see them all in his Detroit record store.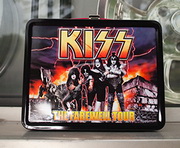 The Top Five Greatest Pixar Films of All Time
Well they're all good but I'd have to agree that The Incredibles is the best one so far. It's been six years so I figure we're due for a sequel.

And more
here
on why The Incredibles rocks.
The Samurai Who Became a Heartthrob in America
Tateishi Onojiro AKA Tommy was one of the first Japanese visitors to the United States. In 1860 he and 76 other samurai visited New York swords and all. Women soon swooned over the 17 year old Tommy and songs were even written about him.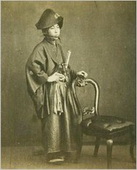 Yahoo group. That is all.
Tonight's post brought to you by Hush Hush on the QT 1960-style: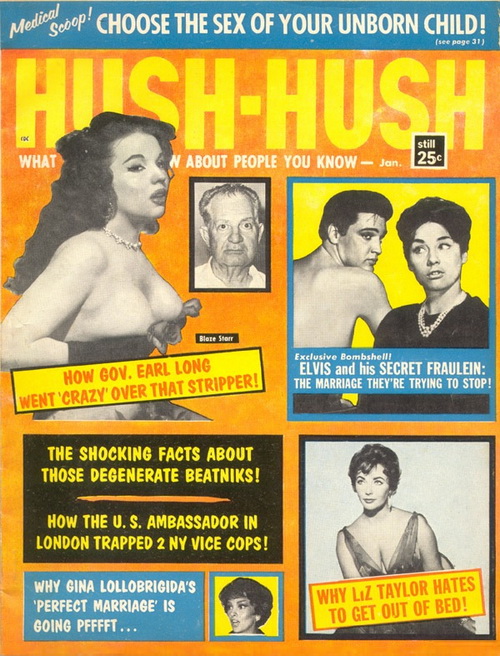 Notice: Posted by permission of AceCorp LLC. Please e-mail overnight open thread tips to maetenloch at gmail. Otherwise send tips to Ace.

posted by Maetenloch at
10:08 PM
|
Access Comments