« Obama Administration on Pock-ee-Staaan: We're Caught in a Trap
|
Main
|
Overnight Open Thread »
June 12, 2010
That Crazy Reagan
How many of you are old enough to remember when you thought "he's insane"?
On June 12, 1987 I was 27 years old. And I thought Reagan was bonkers, with this speech.

"To those listening throughout Eastern Europe...behind me stands a wall."
Some of you, and it ain't no crime, do not remember this wall. It was just something that happened before you.
It was completely a part of my young life. It was a division of power and influence in the world, it was incontrovertible, it was absolute.
There was no overcoming this. We were destined to push our shoulders against the despair of communism, for the rest of our lives, because it could not be defeated.
We were wrong. I was wrong. Because we underestimated the power of the human spirit, that desires liberty, that is willing to cast off oppression at the risk of life itself. To risk everything, to live a life unencumbered by despots.
We should celebrate this, today. It's as good a day as any.
Listen to the words again, at 12:05. "Tear down this wall".
Tear it down, they did.
Tip via
Sarah Frickin Palin
.
UPDATED: Andy sends along this photo from the Reagan library.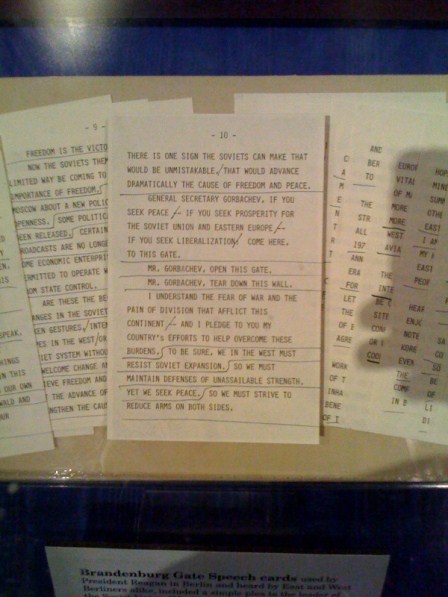 posted by Dave In Texas at
07:56 PM
|
Access Comments