« Best Show on TV: Justified
|
Main
|
Will Folks: I Am Aggressively Working To Gather All The Evidence That Really Should Be In My Possession Already »
May 25, 2010
Will Folks: "Let the Bidding Begin!"
So says the Most Discreet Man on the Face of the Earth, a man who only wants to be left alone with his solitude and his secrets, as he posts a picture of himself with Nikki Haley in a compromising position, with two men.
Hot chick with douchebags: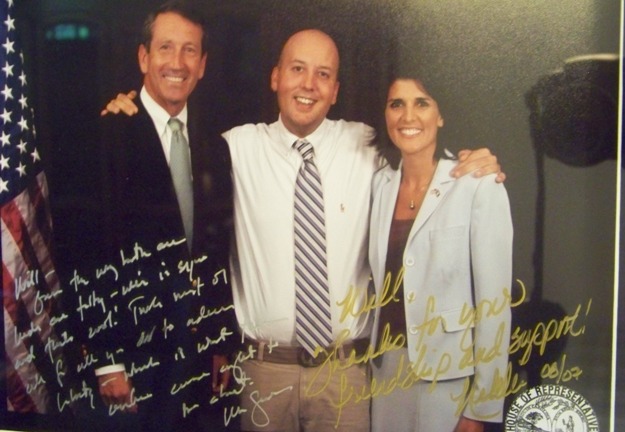 Right. That proves... um... Whatever. That other guy is Mark Sanford.
Here's his post:
Seriously … how funny is this?

It's a framed photo of Mark Sanford, Nikki Haley and Sic Willie following a fundraiser for Haley back in 2007.

Let the bidding begin!
Oh, it's like awesomely funny, dude. They don't call you "Sic Willy" for nothing.
Oh wait, they don't call you that; you call yourself that. No one calls you that because no one knows who you are.
Alex Forrest from Fatal Attraction just called; she wants her dignity back.
PS: Remember when I shook George Bush's hand?
Yeah, that's right: I got to second base with him. Under the shirt, over the bra.
Remember... He promised you 24 hours ago that that single post would be his first, last, and only statement on the topic.
And that's the vow of an uncompromising straight shooter who calls it like he sees it and contends mightily only for the purpose of the good of the citizenry of the state of South Carolina.
Uh-Oh... Commenters have gone to Stage Three of a full internet craze -- Demotivator posters.
(Don't send me these; it's too big a pain in the ass to upload and link them... just save them yourself to photobucket or flickr and post the url!)

Now Slublog... Further evidence of Will Folks' status as super playah.
Another one... Principles.
New Story: I Leaked It Because My Wife Was Suddenly About to Read the Rumors I Had Been Pushing to the Press About It: I don't get it. It's this fool who's blubbering this to people, and then he says he needs to come clean to protect his darling wife?
Dude, why were you blubbering about it in the first place?
Folks, Sanford's former communications director, said he admitted to the relationship on his blog because he heard that media outlets were working on the story. He said he also thought it was likely that others had evidence of the relationship.

"I did it because my wife was about to read it in another (media) outlet," Folks said, adding he is not working for any rival campaign nor was he paid to make the admission.

"I decided I would get ahead of it and (reveal) it in a way that was respectful to Nikki."

Folks said he was told that people associated with the GOP gubernatorial campaign of U.S. Rep. Gresham Barrett of Westminster were pushing the story.
My wife was going to find out that years ago, before I dated her, I had had sex with another woman, and therefore I was compelled to spread the story in the media, so she wouldn't read it in the media I had just spread it to.
I just couldn't sit her down and tell her privately; it just wouldn't be fair to her.
Instead I had to do her the courtesy of telling her via blog.
Another One... From Empire of Jeff. This one playing on Folks' claim he had to reveal this to the press, but wanted to do so "respectfully" as concerns Nikki Haley: "Respectful Revelations."

posted by Ace at
11:21 PM
|
Access Comments