« Bill Maher is a Tiny Friggin Idiot
|
Main
|
Top Headline Comments 5-3-10 »
May 02, 2010
Overnight Open Thread
Every time a weekend ends, another weekend is born...
So whatever Happened To This Girl?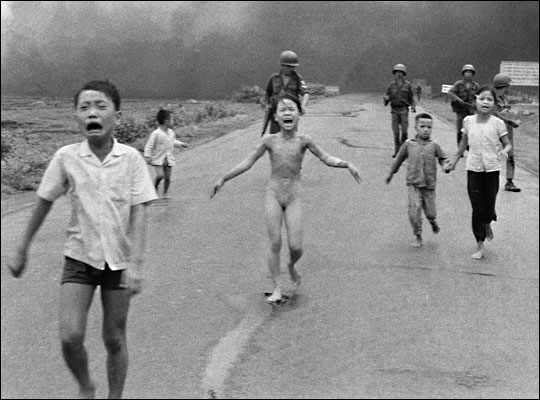 No doubt almost everyone is familiar with this iconic photo from the Vietnam war. It was taken on June 8, 1972 by AP photographer Nick Ut who won the 1972 Pulitzer prize for it and the naked girl with her clothes burned off became a symbol of the war. Well her name is
Phan Thị Kim Phúc
and she is still alive today.
On that day South Vietnam forces were fighting with NVA troops who had occupied the village of Trang Bang. She and her family along with some South Vietnam soldiers were running towards South Vietnam lines when a pilot mistook them for NVA soldiers and dropped a napalm bomb on them. Several of her cousins were killed and she was burned over 65% of her body with all of her clothes burned off. Contrary to widespread belief it was a South Vietnamese pilot and plane that dropped the napalm and Americans had nothing to do with it.
When she reached ARVN lines Nick Ut took his famous photo and soldiers gave her water and tried to wash her wounds. She remembers yelling "Nóng quá, nóng quá" ("too hot, too hot") as she was running. You can watch video of the scene here [warning: it's graphic]. Soon after she was evacuated to Saigon where doctors gave her little chance of living. However after 14 months and 17 surgeries and nearly dying several times she was finally able to return to her village although heavily scarred and with permanent pain due to nerve damage.
From her experience with the many doctors who treated her, she resolved to become a doctor herself. However by this time South Vietnam had fallen and communist authorities decided to use her as a propaganda symbol instead and she was forced to quit school. In 1982 she converted to Christianity and in 1986 she was finally allowed to resume her studies in Cuba. While there she met another Vietnamese student, Bui Huy Toan, who would be her future husband. They were married and on their honeymoon in 1992 during a refueling stop in Gander, Newfoundland she and her husband fled the plane and asked for political asylum. It was granted and she became Canadian citizen in 1997. She and her husband and two children now live in Ontario.
Today she is a UN Goodwill Ambassador, public speaker and runs a foundation,
The Kim Foundation
, dedicated to helping children burned and injured in wars. She gave a speech at the US Vietnam Veterans Memorial on Veterans Day in 1996 and had
her biography
published in 1999. Most recently she read an essay on NPR describing her journey from a peasant girl to an international advocate for burned children. You can listen to it in her own words
here
.
Five Myths About Green Energy
1. Solar and wind power are the greenest of them all.
2. Going green will reduce our dependence on imports from unsavory regimes.
3. A green American economy will create green American jobs.
4. Electric cars will substantially reduce demand for oil.
5. The United States lags behind other rich countries in going green.
None of these statements is true but you hear them repeated over and over from politicians like a mantra. If green energy were half as awesome as it's made out to be, we would have switched over decades ago. But there are good engineering and economic reasons why we haven't.
Know Your Meme: Boxxy
Just over a year ago the cute, hyperactive Boxxy caused a civil war on 4chan and nearly brought the internet to its knees. I never quite understood all the hate on her - she seems like a happy and fun person. At worst she might need a little ritalin.

Working With Crackheads and Ex-cons: The Twitter Feed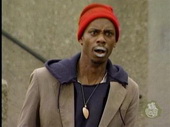 Deadbycubicle
is a twitter feed from someone who supervise a telemarketing call center apparently staffed by ex-cons and drug addicts. Which leads to such gems as this:
During lunch, Alonzo slams his girlfriend's head into a keyboard. I immediately wonder how long it will take the I.T. guy to replace it.
11:03 AM Mar 31st via web

We now employ one woman with chin scruff, and another woman with chest hair. No one pays attention to the shemale anymore.
9:24 AM Apr 19th via web

10 Volcanically Hot Girls from Iceland Scandiland
Now you can see the danger that Iceland poses both to our airways and souls.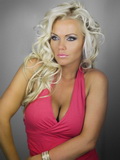 Andrew Sullivan Vows To Continue His Investigation into Sarah's Uterus [safe link]
Because it's such a Serious Question that the System won't allow to be asked. Yet Andrew never seems to get his lazy ass on a plane to Alaska and actually investigate his claims.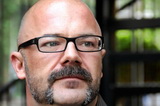 So what's the most popular selection from the Riker's Island library cart?
Apparently James Patterson and National Geographic with a little Che thrown in.
Weekly AoSHQ Commenter Standings
Top 10 commenters:
1 [642 comments] 'Rum, Bitch Goddess' [90.02 posts/day]
2 [525 comments] 'ParanoidGirlInSeattle'
3 [371 comments] 'curious'
4 [336 comments] 'FUBAR'
5 [334 comments] 'The War Between the Undead States'
6 [311 comments] 'kbdabear'
7 [270 comments] 'HeatherRadish'
8 [264 comments] 'rdbrewer'
9 [233 comments] 'Vic'
10 [230 comments] 'Bomber'
Top 10 sockpuppeteers:
1 [122 names] 'Delta Smelt' [17.11 unique names/day]
2 [88 names] 'kbdabear'
3 [58 names] 'conscious, but incoherent'
4 [54 names] 'fluffy'
5 [43 names] 'Mallamutt'
6 [42 names] '18-1'
7 [31 names] 'La guerra entre los estados no-muertos'
8 [29 names] 'davidt'
9 [28 names] 'andycanuck'
10 [25 names] 'Loopy de Loop'
The group. Yeah.
Tonight's post brought to you by Jamie Sommers: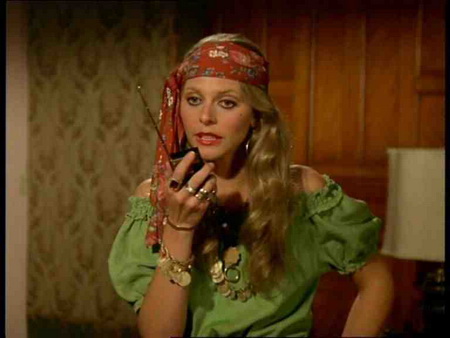 Notice: Posted by permission of AceCorp LLC. Please e-mail overnight open thread tips to maetenloch at gmail. Otherwise send tips to Ace.

posted by Maetenloch at
09:00 PM
|
Access Comments