« "Mostly Peaceful" Vs. "Ugly:" The MFM's Coverage of Immigration Rallies Vs. Tea Party Rallies
|
Main
|
Indian and Pakistani Border Guards Take Turns Trying to Out-Lunatic Each Other »
April 27, 2010
Overnight Open Thread
The Whole Gizmodo/Apple Iphone Prototype/Search Warrant Dealio in a Nutshell
Ed from Hot Air covered this but here's the short version of the story in case you haven't been following it.
Gray Powell, an Apple engineer, takes a prototype of the next generation iphone to a bar one night and accidentally leaves it there. Somebody finds it and takes it home planning (they say) on returning directly to the owner. But by the next morning it's been remotely wiped clean by Apple so they can't find out who it belongs to. So the finder calls (they claim) various Apple numbers trying to find out where to return it but gets the run around.
A few weeks later someone (the finder?) sells it to the technology blog Gizmodo for $5000. Gizmodo then publishes the complete details of the new iphone. Apple goes apoplectic and demands the phone back. Gizmodo returns it. A few days later San Mateo sheriffs raid Gizmodo's editor's house and take away his computers as part of a theft investigation.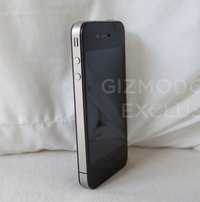 Okay now here's where it gets interesting: There's a California law from 1872 which says any person who finds lost property and knows who the owner is likely to be but "appropriates such property to his own use" is guilty of theft. If the value is more than $400, it becomes grand theft. So this is what Apple and law enforcement are investigating the finder and Gizmodo for.
But it turns that there are CA and federal laws which forbid authorities from using search warrants on journalists to find out the identities of sources - they have to issue subpoenas instead. So Gizmodo claims that their blog is a form of journalism and so the search warrant was a violation of state and federal law. And in addition to all this it turns out that the law enforcement task force, REACT, who raided the editor's house seem to be basically a private police force [within law enforcement agencies] for companies on its steering committee.
So who knows where this will lead but there's just all kinds of bloggy discussion goodness here.
And for the record my view is that bloggers are a type of journalist and so they deserve the same legal immunity that journalists currently get. Which means anyone can get the same protection which will make the authorities and the reporters guild unhappy. Which is fine with me since I've never liked it that certain classes of people get special legal privileges yet aren't accountable to the government or the voters.
Also expect the White Slavery, Fencing Monthly, and Meth Dealer Times blogs to start publishing soon.
South Park Threatening Muslim Guy Actually Lives in Mom's Basement
It turns out that 20 year old Abu Talhah Al-Amrikee, whose infidel name was Zachary Adam Chesser, is a loser who lives with his mom. Just two years ago he was drawing satanic pictures in his notebook then he discovered radical islam.

Two years later, Chesser is literally a changed man. He now uses an alias and has a new set of hobbies. He now likes to be called Abu Talhah Al-Amrikee, and his primary interest in this world appears to be Islamic radicalism.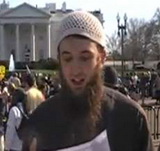 Randy Quaid and Wife Go To Jail
They finally paid back the $10,000 they bilked a Santa Barbara hotel out of. But the judge was fed up with their failure to ever show up in court so he ordered them to jail with a $100,000 bail.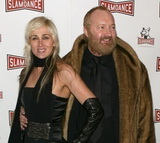 How to get the cheapest air fare
Well these tips and sites are a little different that the generic advice you usually get. And pay attention to which airlines charges for baggage and other services because checking one bag can easily add another $50 to the price. At least the bathroom is still free. For now.
Plus How to Book a Flight the Frugal Way
Ladies not into hairy-chested men?
Well that's what this study says. But I wonder if it would still hold true outside of Europe.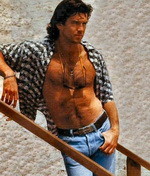 What's Coming Next
From a sex toy designer.
The Yahoo AoSHQ group. You know the way.
Tonight's post brought to you by Steve post-race:

Notice: Posted by permission of AceCorp LLC. Please e-mail overnight open thread tips to maetenloch at gmail. Otherwise send tips to Ace.

posted by Maetenloch at
09:34 PM
|
Access Comments