« SecDef Gates Warns "We Do Not Have an Effective Strategy To Deal With Iranian Nukes.
|
Main
|
New Shiny New Server »
April 17, 2010
Overnight Open Thread - Caturday
Welcome all M&M-types to just another Caturday ONT.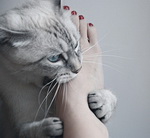 Introducing the Psycho Dog Man
Apparently a pair of dogs was terrorizing residents of a town in Australia and a local tv station interviewed some of the victims. One of them was Ray Graham who described and reenacted the dogs' attack a little too well. Since then he's become an internet sensation and is now known as Psycho Dog Man. I like how his wife seems relatively nonplussed at his snarling - I'm guessing she's heard this impersonation before.

Arizona Now Allows Concealed Carry Without a Permit
The new law allows anyone over 21 who can legally own a gun to carry a concealed gun without any permit. This adds Arizona to Vermont and Alaska which also allow permit-less concealed carry.
Another ObamaCare Iceberg
I guess you really do have to read the bill to find out what's in it. Because someone did and discovered that the bill removes any restrictions on recent immigrants receiving public benefits. Previously immigrants weren't allowed in if they would be a burden on public services - they had to be supported by a US sponsor. The welfare reform bill of 1996 strengthened this by requiring sponsors to pay back the government if their sponsored immigrant went on the public dole within five years. Thanks to ObamaCare that requirement is now gone and immigrants can get welfare, food stamps, medical care, and the full panoply of government benefits from day one.
Holy Crap - Sarah Jessica Parker's Arms!
The sad part is that she thinks this is attractive. Maybe if she had a little muscle on her, but this is just bones, tendons, and starvation. And ladies, starvation is not sexy.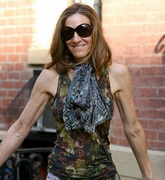 Remembering the very first Internet spam
On April 12, 1996 the legal firm Cantor-Siegel spammed 6,000 usenet groups with an offer to help get a green card. I was active in usenet groups back then and remember when this happened. In those days the internet (which was basically email, usenet, ftp, and gopher) was a more innocent place and most people viewed it as a non-commercial place with certain standards of behavior. So when the Cantor-Siegel spam appeared, the early netizens were outraged and swore that this offense would not be tolerated in the future. Well given lace wigs and sketcher shoes, it's clear those efforts have failed. Sadly the first spam and the September That Never Ended marked the end of the early golden age of the internet.
A Bishop's Theory on the Church Pedophile Scandal: The Jews Did It
Well he actually said the 'zionists' were behind it but we all know that zionist is pronounced "joo".
Real men get their nostrils waxed
Well when they're at the Man Expo. As much I want to mock, the truth is no one wants to see a guy's nose bush sticking out. So trim it, cut it, pluck it, or even wax it if you have to.
And that goes for you ladies as well.

"One thing that I did that I was not expecting, was to get my nose hair waxed," Johnson said. "My nose feels beautiful and slender. It feels five pounds lighter."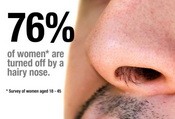 Bacon Fat Popcorn?
Yes. It seems so obvious once you hear about it. And it fits in with my theory of food: if you like A and you like B, you'll probably like A and B mixed together.


The 9 Weirdest Crispin Glover Moments
And there's been a lot over the years. Apparently Glover is still acting and occasionally directing movies. He played Grendel in the 2007 Beowulf movie and is currently in Alice in WonderLand and Hot Tub Time Machine. But I still think his Letterman appearance is the highest achievement in weirdness.


The Yahoo AoSHQ group. Bla bla bla. And don't forget about the Job Bank.
Tonight's post brought to you by Dolly and kitteh: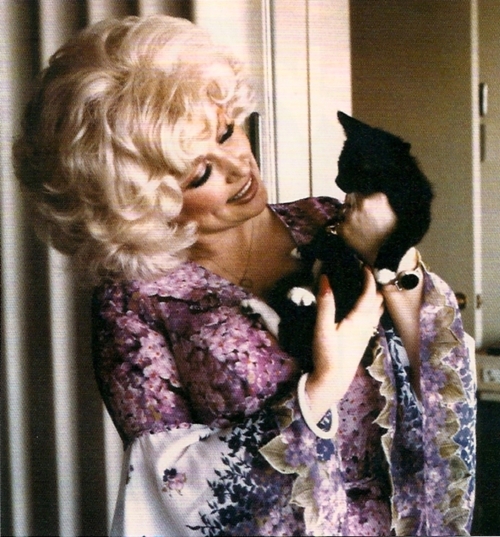 Notice: Posted by permission of AceCorp LLC. Please e-mail overnight open thread tips to maetenloch at gmail. Otherwise send tips to Ace.

posted by Maetenloch at
09:45 PM
|
Access Comments