« Overnight Open Thread - Spring Cleaning Edition
|
Main
|
Top Headline Comments 4-9-10 »
April 09, 2010
Breaking: Stupak to Retire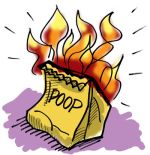 Image Update - As Stupak is not worthy of the flaming skull, and the Stevens news is much bigger, I've replaced the skull with a more appropriate image.
Michigan Rep. Bart Stupak, the congressman who led anti-abortion rights Democrats in the House during health care negotiations, will retire this year, CBS News has learned. He is expected to announce his plans later this morning.

Had Stupak sought re-election, he would have faced challengers from both the left and the right backed by interest groups angered by Stupak's health care vote.
It would have been much nicer to see this guy defeated in November, but this will do.
The move really isn't surprising, though. After folding on the one issue he once pretended to take a stand on, he doesn't have anything left to sell.
(h/t: Hot Air headlines)
Update - Remember, this isn't 1994. This year, they have Obama:
Obama called Stupak Wednesday, asked him not to retire. Rep. Dingell, dean of delegation, did too. Per colleague Chad Pergram
Nothing to worry about, Dems.
You'll be fine.