« Another No to Yes: Betsy Marky of Colorado
FoxNews Says Count Is 214-217
|
Main
|
Overnight Open Thread »
March 18, 2010
Four Years of Nothing (But Taxes)
This urgent thing that must be done now, must be done for some other reason than actually helping Americans with their health care. (chart via table 2 of today's CBO report, courtesy Geoff).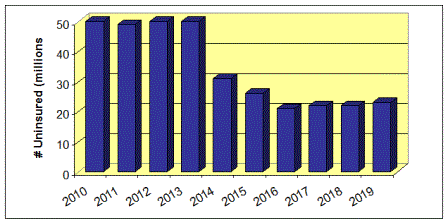 the dramatic improvement of healthcare for Americans

We're clued into this but most of the middle are not, so it bears repeating. There will be no improvement in health care coverage for Americans for four years after this piece of crap passes. What will happen for four years?
Taxes. Taxes, and businesses working and adjusting to figure out how these things affect the bottom line, and of course where taxes and operating expense crossover.
So there is an immediate impact. Just no immediate improvement. Ok actually no long term improvement either but I'm playing on their turf with this argument to make a point.
So Natoma Canfield will have to rely on the current system, given the calendar and all. Fortunately for her, the current system is working to take care of her, and I wish her all the best in her fight.
Think about that in the context of the woeful anecdotes and ask "uhm, if they kinda cared about these awful things, wouldn't this be sort of geared toward helping make a difference for them?"
Answer your own question. Which is very efficient.
Also, I think Gabe mentioned this earlier, Obama has postponed his trip to Indonesia and Australia while this thing works its magic in the House.
UPDATE: Obamacare in fifteen seconds.

posted by Dave In Texas at
07:24 PM
|
Access Comments