« Chief Justice Roberts: That Crap Obama Pulled At The State Of The Union Was Uncool
|
Main
|
Top Headline Comments 3-10-10 »
March 10, 2010
Remembering Reagan's 'Evil Empire' Speech 27 Years Later
Has it really been 27 years? Wow, time flies when you win the Cold War.
On March 8, 1983 President Reagan delivered an address to the National Association of Evangelicals in Orlando, Florida. It would have been a decent, not particularly memorable speech except for a few extra paragraphs Reagan added where he described communism as 'the focus of evil in the modern world' and called the Soviet Union an 'evil empire'. This might seem pretty unremarkable now but at the time it was highly controversial with all the right-thinking people decrying it as 'dangerous' and 'unhelpful'. And I suppose it was unhelpful - but it was also true.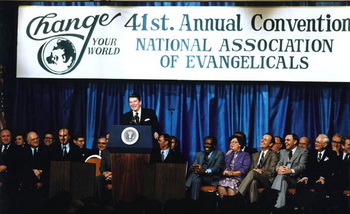 We tend to forget how many of the elite back then (including even some in the GOP) were invested in the idea of a détente with the Soviet Union, and resigned to a permanent Soviet sphere of influence. So why upset the Bear with a bunch of words in a speech? Lurking behind all of this was the assumption of a moral equivalence between the US and the USSR which was considered the 'sophisticated' way to see things. Well lucky for us Reagan would have none of it and was willing to say the truth.
And apart from upsetting all the right people his words even had an impact all the way into the Soviet Gulag. Natan Sharansky, then a political prisoner in a Siberian labor camp, recalled how news of Reagan's speech eventually made it into the prison and convinced the dissidents that the days of communism were numbered. Finally someone had spoken the truth that everyone else was afraid to say.
And Andrew Sullivan, before he became unbalanced, gave I think one of the finest tributes ever to Reagan's speech back in 2001:

I will never forget the moment I heard his "evil empire" speech. It was broadcast on Radio Four in snippets, festooned with sceptical British commentary about this inflammatory and dangerous new president, this cowboy who knew nothing about geo-politics or the complexities of late-Communism. But for all the criticism, what came through to my teenage brain was an actual truth. Yes, the Soviet Union was evil. Who now doubts that? But who in a position of power said so when it mattered? Barely no-one but Reagan. He alone saw that communism was destined to be put on the "ash-heap of history," as he told the House of Commons. And he helped put it there. His achievement in this respect was so monumental that a whole generation of former peaceniks now take it for granted. Think of Tony Blair and Bill Clinton. In the 1980s, they were nuclear freeze supporters. And yet both now thoughtlessly enjoy the soft and easy fruits of a greater man's courage.
Here's a clip from Reagan's speech - the good stuff starts around the 2:30 mark.


posted by Maetenloch at
01:56 AM
|
Access Comments