« School Board To High School Faculty: You're Fired. All Of You
|
Main
|
NYT: "First Tea Party Terrorist?" »
February 24, 2010
USA-Switzerland Olympic Hockey. Final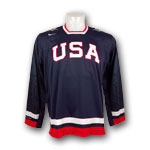 UPDATE:
US Wins, 2-0. US played well against a pesky and defensively sound Swiss team. It's like the NCAA's, survive and advance. US plays the winner of Finland-Czech Republic on Thursday.
Now onto Russia-Canada.
Still scoreless after 2 periods. The US is out playing the Swiss in every area of the game, except goalie. Miller's doing fine but he's only faced 8 shots. Jonas Hiler however has stopped 32 shots.
I hate games like this. One team is clearly out playing the other and yet the inferior team is just hanging around. I mean, it's entertaining but one bad bounce and the US could be out.
Original Post:
Because you asked for it. Well, maybe not you but that other guy, over there, he did.
End of the 1st period, no score
Theoretically you can watch it online here but I haven't been able to get it to work.
As much as I love me some USA ass kicking, this game is really a warm up for Canada-Russia. That should be a great game.
A little late but here's tmi3rds preview...
The coverage notwithstanding, this may be the most fun tournament to watch I've seen since perhaps the '96 World Cup. Very few games have been noncompetitive, and the storylines are constantly evolving.

Last night, there was only one lopsided victory- that was Canada's 8-2 dispatching of Germany. The other three games were absolute nailbiters.

Switzerland had to survive overtime and the shootout to win 3-2 (SO) against a very pesky Belarus team (Belarussians, if you prefer), and one of the goals was an absolute mess by Swiss goaltender Jonas Hiller. Slovakia barely held off Norway 4-3, and the Norwegians tied it at the end of the second period with 0.1 seconds left before eventually succumbing. The Czech Republic had to go to overtime against Latvia before Boston's David Krejci scored the 3-2 overtime winner.

So let's talk about today's quarterfinal action. First some programming notes- the US (#1 seed)has the Swiss (#8) on NBC (the mother ship), so we should see the US in high definition. That game airs at 3 PM ET.

The US would be making a big mistake to take the Swiss lightly. As poorly as Jonas Hiller played against Belarus, he may be playing the best net in the tournament. Switzerland doesn't have a lot of scoring punch, but they have more than enough to make life very miserable in a defensive struggle. The US would be well-advised to play Switzerland with the same aggression they did Canada- that means pounding them along the boards and punishing their defensemen every time they touch the puck. At the same time, the defensive zone play needs to tighten up significantly. The US already has one victory against Switzerland (a 3-1 decision in the first game), but would do well to put up 5 or 6 against the Swiss.

The remaining three games will be on CNBC.

The 6 PM ET start is the grand pooh-bah of tomorrow's tilts- Canada (#6) vs Russia (#3). Very few Canadian hockey fans are sleeping well tonight, as the Canadians have shown a troubling tendency to start very slow in the games they've played in this tournament. An 8-0 shellacking of Norway in the first game was 0-0 after the first period. As you may recall, the Swiss took Canada to a shootout, and Canada scored a total of 2 goals in the first two periods against the US.

Conversely, the Russians have not exactly run up the score either. Notwithstanding their blowout win over Latvia, Russia scored 2 in their shootout loss to Slovakia and 4 in their win over the Czechs. Nonetheless, this should be a titanic matchup.

If Canada gets off to their habitual slow start, they could be in trouble. As you've seen, they do better when they get out to a substantial lead. They throw a lot of pucks at the net, but they've misfired a lot from in close on second chances (and yesterday's game versus Germany was no exception). I don't mean to be down on Canada, but there was something distinctly missing from them last night. The only prediction I'll offer is that if Canada starts slow, Russia wins. If Canada starts fast, they'll probably win.

Game three, a 10 PM start in the east, is Finland (#4) and the Czechs (#5). Finland looked extremely unimpressive against the Swedes in their final preliminary round game, but the Czechs lost Jaromir Jagr to an injury early in the second period against Latvia. Without Jagr, the Czechs lack a significant amount of scoring punch. Mikka Kiprusoff has been solid but unspectacular in net for the Finns, and Tomas Vokoun has largely been excellent for the Czechs. If Jagr doesn't play, look for a very low-scoring affair and possibly a shootout.

Game four, a midnight ET start, is Sweden (#2) versus Slovakia (#7). This one's a hard one to call. The Swedes have a ton of talent, and it's hard not to expect them to walk all over the Slovaks- except that the Slovaks beat Russia. The Slovaks have more scoring punch than the Swedes do, and Jaroslav Halak has been very impressive for the Slovaks. Against Sweden's Henrik Lundqvist, I'm not sure who I give the edge to. I'm thinking that Sweden wins, but they haven't played very inspiring hockey. As they go, there seemed to be some chemistry developing between Daniel Alfredsson (Ottawa) and the Sedin twins (Vancouver) that gives them a bit of extra punch...

Jeremy Roenick called it well- this is anyone's tournament to win now. Even at the #1 seed, the US are still underdogs. That's good- let the other guys beat the crap out of each other and we'll see what happens.

Morons, even if you're not hockey fans, this has been high sports drama, and it will continue. I have no idea how Mike Emrick (the play-by-play announcer for NBC and for your New Jersey Devils) still has a voice at this point. Sit back and enjoy some great hockey today. I know I will.
Trivia...why do the call Mike Emrick "Doc"? He has a Ph.D in Communications and taught at the college level.

posted by DrewM. at
03:51 PM
|
Access Comments