« Joe "Full Biden" Biden: "I Never Once Doubted" the Surge Would Do Exactly What I Promised It Could Never Do, EVer
|
Main
|
Indiana Troublemakers Meet-Up Thread
Update: "I Signed" »
February 15, 2010
Mike Pence: How Many Times Do I Have to Tell You I'm Running For President?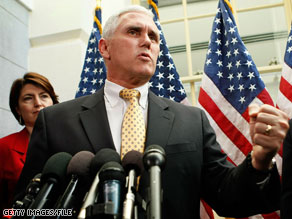 "I'm not wasting this Authoritative Hair on a mere Senate race."
I'm just noting this because Allah is mystified Pence isn't running for the now-open seat in Indiana.
Pence hasn't said he's running for president (so my headline is sort of a lie). But he's doing most of the things you'd do if you were to run.
I figure he doesn't want the Senate job because he'd just be starting that even as he began running for President. And he'd have to sort of lie in the senate campaign, claiming he wasn't even considering abandoning the seat for a run at the presidency.
True, he'd have to give up his House seat for that, too, but that's just one of 435 and besides it's always filled by special election, and presumably Pence is in a safe district.

posted by Ace at
04:31 PM
|
Access Comments