« PuppyCam
|
Main
|
Overnight Open Thread »
February 03, 2010
Good Lord: Check Out This Carly Fiorina Ad Against Tom Campbell
over the top, much?
I don't know if I can blame Fiorina for going after a rival with guns blazing.
But...
If you get bored of it, you have to skip to around 2:20, when the Demon Eyed Sheep makes its appearance.
Now, the demon prince Bamophet usually is depicted as having a sheep's head, or I guess a ram's head. (Goat's head, I'm told -- well, I don't know animals much.)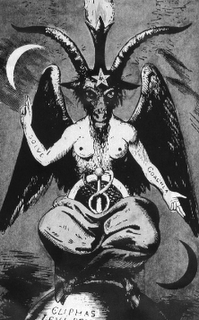 I'm just sayin'. Seems a little... much.

posted by Ace at
06:47 PM
|
Access Comments