« DOJ Will Appeal Blackwater Ruling
|
Main
|
Federal contractors owe over $5B in delinquent taxes »
January 24, 2010
Global Warming Street Theatre, or "Seasons Don't Fear ManBearPig, Nor Do The Wind, The Sun or The Rain"
Saturday was the Republican Precinct Caucus date for the Iowa Republican Party. Here in Madison County, the County Committee had a unique idea for a "Special Project" to coincide with both the caucus AND the recent ice storm that hit our area. They commissioned a chainsaw ice sculptor to come down from Waterloo and transform a 900-pound block of ice into a frozen likeness of Vice President & Global Warmening Grand Poobah Al Gore. The County Committee is selling raffle tickets for one dollar, and the person who guesses the date and time that the last little piece of this ice block is reduced to liquid form wins 50% of the net proceeds of the raffle (the other 50% will be donated to the local non-profit charity of the winner's choice).
I managed to get a few snapshots of the sculpture during the carving process on Friday, and I also came back on Saturday with an AoSHQ approved snack food.

This was about noon on Friday, while the sculptor was still at work.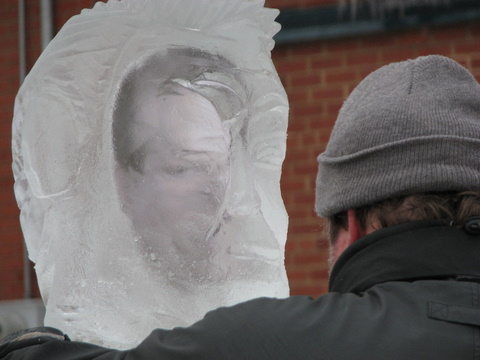 A close-up of "Big Al".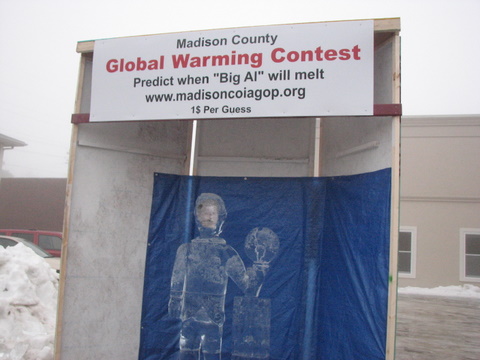 A photo I took on Saturday after the enclosure was constructed.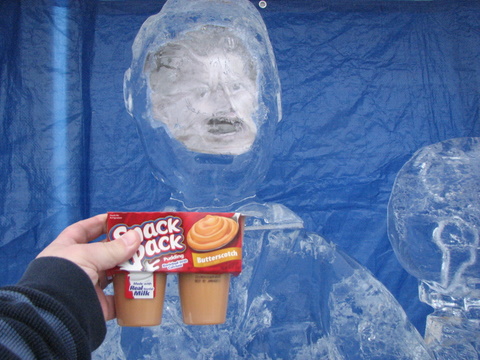 Al looked hungry, so I thought I might offer him a puddin' cup.
Bob Kaldenberg is the "Special Projects" director for the local Party, and when I told him that I would be blogging about this stunt, he said "Don't forget to tell them that they can use PayPal to buy raffle tickets!"
OK, Bob. Consider the message delivered. You can go here to read more about this contest. In the header of the website, click on "The Big Melt".
And before you ask, "The Russ from Winterset Booze & Bacon Fund" is NOT included in the list of appropriate non-profit organizations. Shocking, I know, but I'll deal with the disappointment in my own way.
UPDATE: I see that the Paypal option has not been activated yet, so I'll call Bob and tell him that I've already advertised this as an option. I guess if you HAVE to get an entry in today, you could print out the tickets and send them with cash via snail mail. Hey, it's nostalgic!

posted by Russ from Winterset at
12:55 PM
|
Access Comments