« Air America Off The Air - Actually Almost Nobody Hardest Hit
|
Main
|
Overnight Open Thread (Mætenloch) »
January 21, 2010
Reconciliation Still on the Table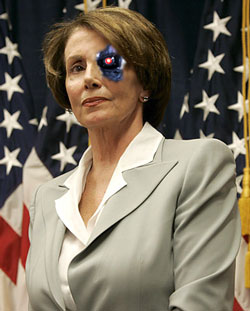 "You still don't get it, do you? She'll try to pass it!
That's what she does! It's *all* she does!"
Guess it's not old. Despite what she said earlier, Pelosi will not be denied.
Rep. Paul Ryan (R., Wis.), the ranking member of the House Budget Committee, tells National Review Online that House Democrats are planning to use the budget-reconciliation process in order to pass Obamacare. "They're meeting with each other this weekend to pursue it," says Ryan. "I've spoken with many Democrats and the message is this: They're not ready to give up. They've waited their entire adult lives for this moment and they aren't ready to let 100,000 pesky votes in Massachusetts get in the way of fulfilling their destiny. They'll look at every option and spend the next four or five days figuring it out."
If the Democrats pull this off and manage to shove this monstrosity through Congress, I'm sure Obama will be so
offended that they didn't listen to him
that he'll refuse to sign it out of principle. Right?
Right?
(h/t: Rich Lowry's Twitter feed.)

posted by Slublog at
06:40 PM
|
Access Comments